Financial Chronicle reports that Hyundai will consider rural markets seriously to drive up sales of the HA hatchback preparing for a festive season debut. Hyundai will place this product under the i10, perhaps starting prices under Santro levels. Having said that, there is no retirement plans for the Santro in place. As sales are strong, the Santro should continue for another few years.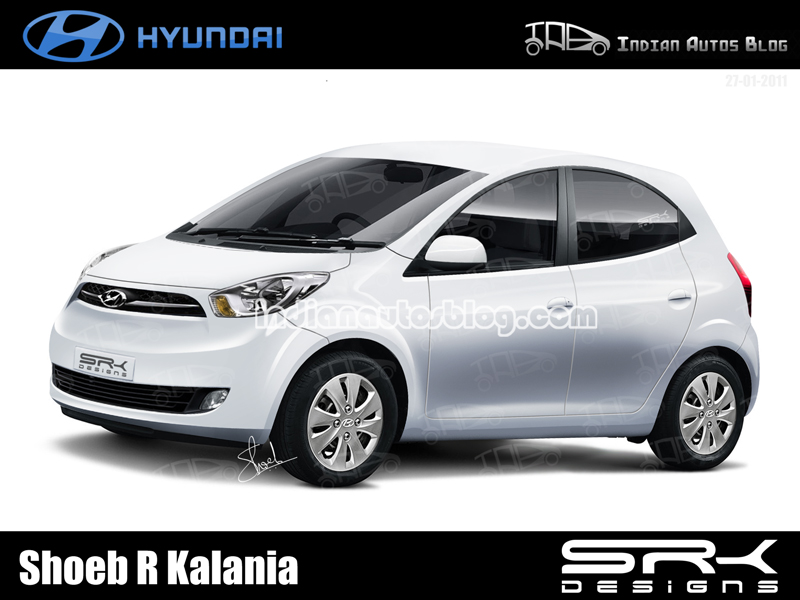 With fluidic design touches, an aerodynamic design and benefiting from advancements made in departments of powertrain research and material sciences, Hyundai will aim to eat into the envious volumes of the Maruti Suzuki Alto with an aggressively priced product that returns near about 25kmpl. Maruti manages to shift close to 30k Altos every month and sales have shown increased pace since the launch of the high-powered K-10 variant.
The HA has been in our spotlight for the past two years. We've posted spyshots of 800cc HA along with SRK's rendering (shown here) based on the design language seen on Hyundai's like the i10 and i20. The latter is also expected to receive a cosmetic makeover in the near future.
Hyundai's definition of rural market is a market that lies outside the top 40 cities in India. There are 700 sales outlets in rural India which Hyundai plans increase to 1,000 in the next 8 weeks. The rural showrooms are very basic measuring 900 sq ft in display area with a 2,000 sq ft service workshop area. Hyundai is also working on the next generation i10 expected in 2013 with a diesel engine.
[Source - MyDigitalFC.com]