Weighs just 972 kg, thanks to extensive CFRP usage.
The Hyundai N 2025 Vision Gran Turismo concept is on view at the Auto Expo.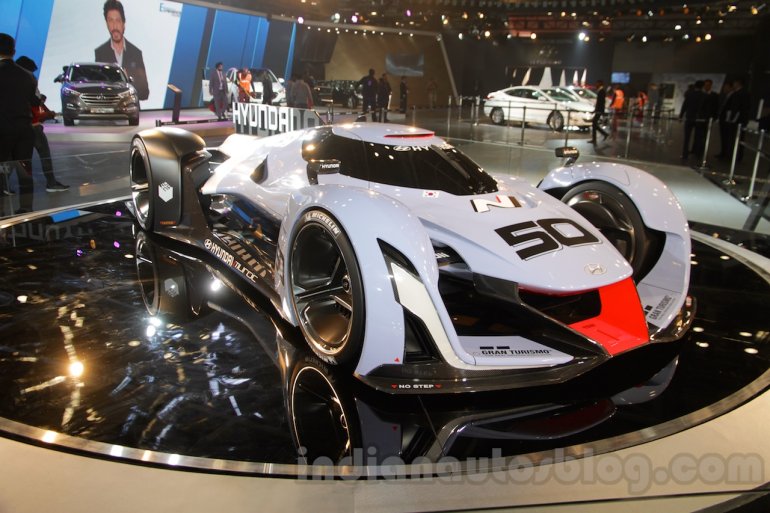 First unveiled at the 2015 Frankfurt Motor Show (2015 IAA) in September last year, the Hyundai N 2025 Vision Gran Turismo concept celebrates Hyundai Motor's announcement of the new high-performance sub-brand 'N'. With the N sub-brand, the company aims to give 'the most thrilling winding road' fun by introducing performance-oriented and race-track capable models.
The Hyundai N 2025 Vision Gran Turismo concept is inspired by the 'Muroc Dry Lake' aeronautics and testing ground where pilots and astronauts are trained for space travel. The concept is based on a rigid CFRP (carbon-fibre reinforced plastic) monocoque structure. Powered by a 650 kW (884 PS/871 hp) hydrogen fuel cell system, the car weighs just 972 kg. Individually, the dual fuel cell stacks produce 500 kW (680 PS/670 hp) and the super capacitor system generates 150 kW (204 PS/201 hp) by brake energy regeneration. Power is sent to all four wheels via independent in-wheel placed motors.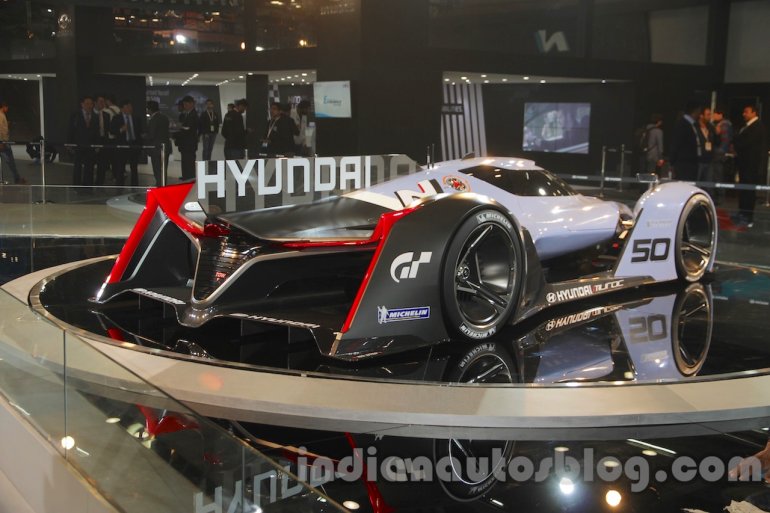 The Hyundai N 2025 Vision GT concept features a unique racing car sound system developed for FCVs at the company's Sound Design Research Lab. While not instantly recognizable, but the concept also features the company's trademark hexagonal grille. It's equipped with air brakes that activate according to speed and also help reducing drag.
It's unlikely that the concept will be mass produced.