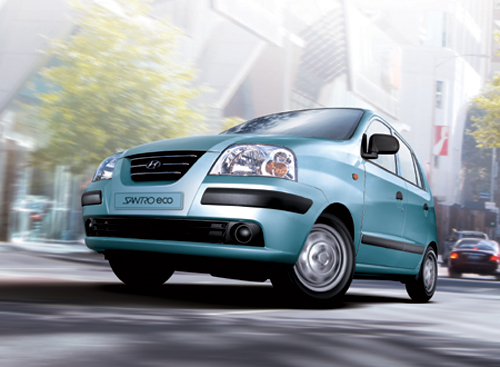 Hyundai has launched the Santro eco, a dual fuel car which runs on LPG and normal gasoline. A factory fitted LPG kit along with the advanced 1.1 petrol engine promises to combat rising fuel prices. Carbon Dioxide emissions are also considerably lesser than the normal petrol version which is good for the environment. The LPG kit is designed to take impact loads without any dire consequences and is certified by the ARAI. The LPG variant will be priced Rs 21,500 more than the existing petrol model
Press Release-
New Delhi, September 30, 2008: Hyundai Motor India Ltd., the country's largest passenger car exporter and the second largest car manufacturer, as part of its initiative to promote eco-friendly and non polluting means of transport, today launched the much-awaited LPG version of its flagship brand Santro. The LPG variant will be priced Rs 21,500 more than the existing petrol model. The new LPG version of Santro, christened Santro eco (eco is synonymous with environmentally friendly and economy) comes with a factory fitted LPG kit and boasts of features that meet global standards of performance and safety.
The ex-showroom Delhi price for Santro eco (GL) is Rs 354,294 and Santro eco (GLS) is Rs 373,357.
Powered by the 1.1 litre, eRLX engine, Santro eco offers its customers a unique combination of reliable performance and unmatched fuel economy. With separate Petrol (35 Litre) and LPG (27.2 litre) tanks, the customers have an option to choose from both LPG and petrol mode. The LPG tank in the Santro eco has a special 'Toroidal' design that allows intelligent use of space and makes larger luggage room available to the customer.
Announcing the launch, HMIL, Managing Director, H S Lheem, said, "We have taken a conscious decision at Hyundai to make environment friendly car and we are furthering our initiative of launching alternate fuel vehicle which take this theme forward. We had earlier introduced the CNG Santro and today we are launching the LPG version of our flagship brand Santro. LPG is widely available and we feel that the LPG Santro will appeal to all our customers who are looking for economy, are environmentally conscious and the original fitment of the LPG kit will put to rest safety concerns which retro fitted LPG vehicles have."
The LPG kit in Santro eco is impact resistant and the entire fitment is approved by DOE (Department of Explosives) and certified and tested by ARAI (Automotive research Association of India), the country's premier automobile testing and certifying authority. The factory-fitted LPG system in Santro eco enjoys full 2 year manufacturer warranty benefits thus ensuring enhanced safety and peace of mind for the customers. Santro eco also boasts of the lowest greenhouse gas emission as it emits lower CO2, as compared to the petrol or the diesel version, hence making it extremely environmentally friendly.