The Chinese media are carrying reports that leak out the variants, engine options and prices of the yet-to-be launched Hyundai ix25.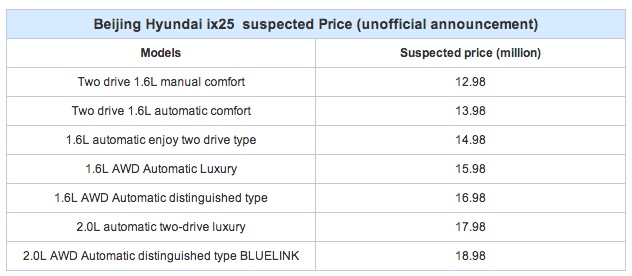 The ix25 is expected to launch in a total of seven variants and two (petrol) engine options. The base engine would be a 1.6-liter four-cylinder while the top-end motor is a 2.0-liter unit. Save for the base 1.6-liter variant, the ix25 will come with an automatic gearbox, mostly a six-speed unit.
Hyundai will offer its AWD technology on three of the seven variants. The top two variants of the 1.6-liter and the top-end variant of the 2.0-liter benefit from a 4WD system. Like the Santa Fe, the 4WD variants of the ix25 come with an automatic gearbox as standard.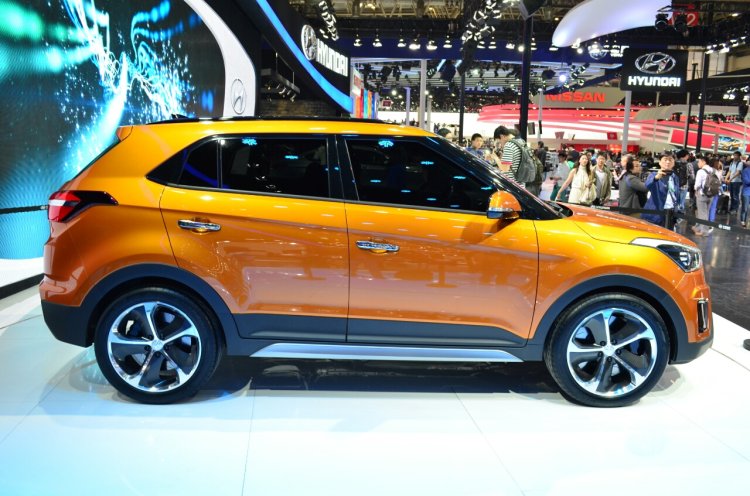 The ix25, according to this report, will start from 129,800 CNY (INR 12.56 lakhs) for the base 1.6-liter 2WD manual, and extend up to 189,800 CNY (INR 18.36 lakhs) for the top-end 2.0-liter AWD automatic.
To recap, the ix25 was revealed earlier this year at the Beijing Motor Show and is announced to enter production in China by the Beijing-Hyundai joint venture. The car will be available in the Chinese market from early October.
Read more about the Hyundai ix25
Expected to arrive in India in 2015 (with a diesel engine option), the compact crossover will compete with the Renault Duster, Mahindra Scorpio and the Nissan Terrano. Interior spyshots of the ix25 can be seen here.
[Source - Auto Home]