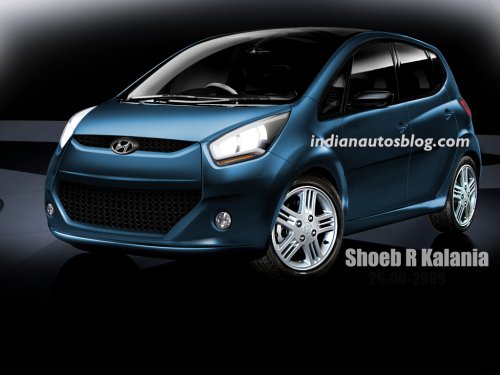 Will the surprise car at the Auto Expo be the small car prototype?
After the launch of the i20 diesel and automatic, Hyundai has not been much in the news. At least not for the right reasons as labor and the lack of free trade agreement between India and European countries forced Hyundai to shift a major chunk of the i20 production to Turkey.
Now, the company has revealed exciting details. We'll give them numbers for easier assimilation.
1) Hyundai i40 -
Hyundai claims the i40/new Sonata YF will arrive in India "Sooner or later" but no date has been decided. We expect the Sonata YF to be brought in a CBU and compete with the likes of the Camry, Accord, Superb and Teana.
2) Hyundai's surprise car -
Hyundai India says it will display "a surprising product" at next year's Auto Expo in Delhi. We suspect this will be a prototype of their small car scheduled for 2011. This will be a repetition of what happened in the 2008 edition of the Expo with the Suzuki A-Star concept followed by production later in the year. This time at least we expect the concept to stick closer to the prototype version.
3) Hyundai Santa Fe -
Hyundai will bring the Santa Fe SUV as CKD kits, probably from Korea, next year. The Santa Fe would be the apt contender in the segment which is currently the most talked about in India, especially after the arrival of the Toyota Fortuner and refreshed Ford Endeavor.
HMIL, managing director, HS Lheem -
At present, we pay over 60 per cent duty to import the Tucson. If we import the Santa Fe, the company will have to pay similar import duty, which would be a costly affair. As a result, the company has now decided to import Santa Fe as a CKD, so that our import cost goes down, significantly
Source - Financial Chronicle