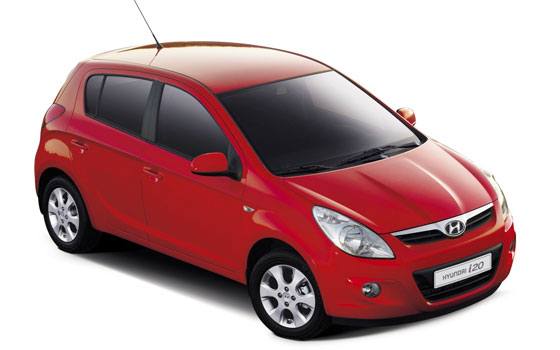 Hyundai's long awaiting secret, the i20 has been revealed and this is the lone picture available to us. Set to replace the Getz (you'll get over it eventually, honest), the i20 is set to be officially launched at the Paris motor show in a month's time before going on sale in India almost immediately.
The i20 sits on an all-new platform, and has a longer wheelbase than the Getz, which should see it battling with the Fabia for space.Presently the Getz is a very spacious car and that's its only advantage (apart from a fire breathing 110bhp CRDi), the reason why the Swift outsells it by a huge margin. The new one would take the fight to Maruti Suzuki Swift.
Though we've not had final confirmation of engines, we're expecting 1.1 iRDE and 1.2 Kappa petrols, along with a 1.4-litre diesel (its all new) and also the 1.5 VGT Crdi. That'll soon be followed by a greener 'i-Blue' 89bhp diesel model, which'll emit just 99g/km of CO2. This should bode well for the EU market.
Overall, the Car is striking with large headlamps and an aggressive front bumper with a prominent bonnet ridge. No pictures of the rear have been made available but from the picture it can be inferred that the taillamps will be Swift like as they can be seen from this view. Also very prominent are the wheel arches blended with the side skirts, new alloy wheels and the cut above the door handles.
Prices were not available but expect it to undercut the existing Getz but above the i10. The prime reason why the Getz failed to emulate the success of the Swift is because it was priced higher. This  much needed price cut will strengthen its position and will give Maruti many sleepless nights.