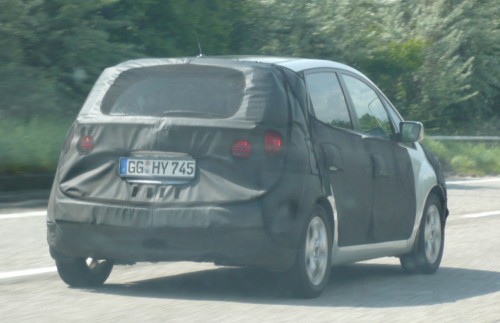 I do not know if the camouflaged test mule pictured here is the production model of the ix-metro concept shown at the Frankfurt Show but it certainly looks like it.
The plans for producing the MPV variant of the i20 hatchback was brought to our notice in June earlier this year. After the shifting of a major chunk of the i20's production to Turkey, one really wonders if Hyundai will manufacture the MPV variant here in its Chennai plant since the demand for this type of vehicle is more in Europe. Might as well make it in Turkey and distribute it faster to European countries.
The i20 MPV will be 4.10 meters long and has a width and height of 1.75 and 1.65 meters respectively. Room Inside will be allocated for five people and it will compete with models like the Opel Meriva, Renault Grand Modus and Nissan Note.
One must also not forget Mahindra's future MPV that will be less than 4 metres long and with a 1.5-liter diesel engine, it will be suitable for excise benefits in India. That means, the Mahindra mini MPV will be offered to shoppers who want maximum space for their money. It will be a spacious vehicle competing with hatchbacks in i20 and Ritz range.
Buying an i20 is a costly affair in India and I'm sure the i20 MPV will be priced higher. Perhaps with more localization over time, a locally sourced diesel engine and slightly tinkered body, the i20 MPV could leave the Chennai plant to greet the new breed of Indian customers - the mini MPV buyers!
Source - Auto Telegraaf