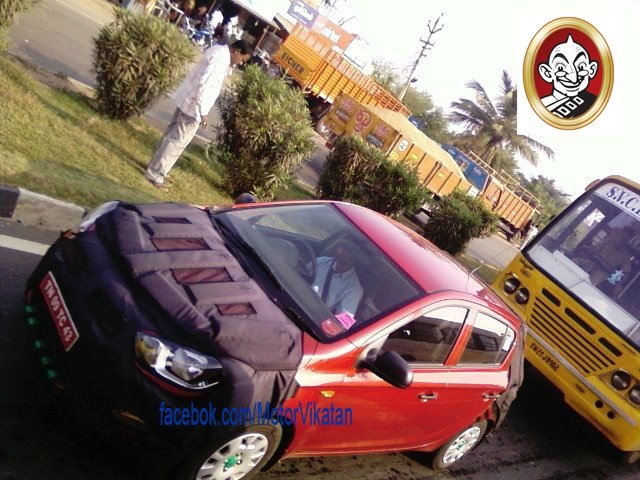 Our friends at Motor Vikatan have stumbled upon an interesting scoop this week. On their official Facebook page, fans have been updated with a reader spyshot of the Hyundai i20 facelift from Chennai. Motor Vikatan reader Rahul Shivaguru caught the i20 queuing at an expressway toll booth.
See high resolution spyshots of the Hyundai i20 facelift
Indian Autos Blog readers have seen three different photographs, thanks to Sharav Venkatesh and Vikram Vishwanathan, of the reworked i20 testing wearing camouflage near the Chennai factory.
It goes under the surgeon's knife to transform like its little sister, the smash-hit i10. Full of fluidic design touches, the revisited i20 has a better scope of attracting customers drawn towards new B+ segment vehicles like the new Swift, refreshed Jazz and Polo. Through these snaps we're not able to make out what's changing inside. But tell me, how much of the interior can change given this facelift is a mid-life operation?
For the same reason mechanical changes are not going to lead the way on the new i20. Headlights and grille inspired by the Verna and insertion of reflectors to the rear bumper are the notable inclusions. Expect no surprises when you pop open the hood as VVT technology could be the sole addition on the petrol engine with the diesel left undisturbed.
Will Hyundai add BlueDrive technology (LPG) on the 2013 i20? How about offering AT on the diesel? Stretching that bit of imagination further, can the Verna's 1.6-liter diesel engine be used to make a limited run i20 "fast" edition?
Hyundai should not take very long to bring the facelift to the market. We see them launching it on or before the festive season of 2012.
[Source - Facebook.com/MotorVikatan]