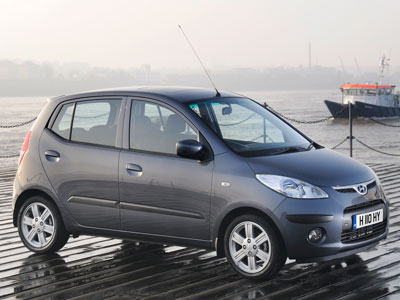 whoa! Hyundai is taking the world by storm. Every corner of the world has something new happening with the i10.
In Belgium -
Hyundai's exporter in Belgium is running an unbelievable offer - Buy a Hyundai Sonata 2.0 CRDi Executive and get a new Hyundai i10 free! OK you don't get the Kappa engine, you still get the 1.1-liter engine which is a peppy motor.
The catch - You need to be among the first 75 to book this car to be eligible. So if you live in Hungary, you can't afford to think too long!
In U.K -
Hyundai i10 is now among the top ten best selling cars in the UK ! No, Hyundai UK did not offer a Sonata free with the i10.
The massive booking is because of the incentives provided by the government on your new car, if you trade in your old and smokey one which isn't doing any good to the environment or your fuel bills. The scrappage scheme is a great opportunity to exchange you old car at the best possible bargain, and the Hyundai i10 is among the most favorite cars with British buyers.
Hyundai sold 3,084 cars last month making it the ninth most popular car in July 2009.
The catch - Once the scrappage scheme is rolled back, the Hyundai i10 would not enjoy the same status.
At Hyundai's doorway -
A new 800cc, three-cylinder turbocharged version of the Hyundai i10 will go on sale in the first half of next year. The new model derives its heart from the i10 Blue CNG concept shown at the Geneva show last year, which produces 90bhp and under 100g/km of Carbon dioxide.
Hyundai says this car runs on petrol, and not CNG which the concept used to emit just 65g/km and 97bhp.
The catch - Mostly, it will be christened i10 i-Blue, so you have two 'i's' to catch. And you need to be in the U.K or European countries to drive one.