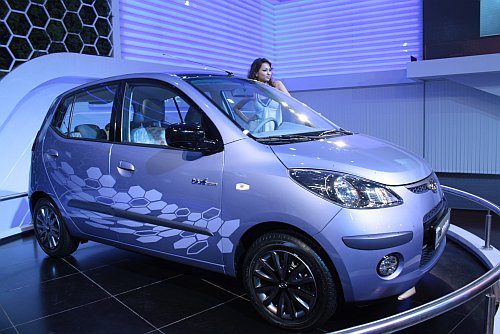 The i10 EV stands next to a pretty woman at the Auto Expo
Looks reality from the company's perspective. The Korean auto manufacturer who showcased the i10 EV at the Auto Expo last week (Don't know? Then definitely Shah Rukh stole its limelight) is finding ways to put it in our homes.
The demand for EVs isn't much in India, but will likely balloon in the future if the government takes steps to strengthen infrastructure and encourage use of non-polluting vehicles. Whenever that happens, Hyundai sees an opportunity to slide the i10 EV into the choice list.
Hyundai Motor India Ltd (HMIL) Director (Marketing and Sales) Arvind Saxena -
A growing awareness among consumers for all things green inspired us to introduce the electric version of our compact car i10
The i10 electric was unveiled at the Frankfurt Motor Show in September last year and the company will make limited volumes for Korean market. The 5-door i10 EV hatchback is run by 49kW / 65HP electric motor and a 16kWh lithium-ion polymer battery that has been co-developed with Korea's LG.
Driving range is expected to be in the range of 100 miles or 160 kilometers and a top speed of over 80 mph or 130 km/h makes it a nippy city hatch.
The petrol-engined i10 has clocked sales of over 3 lakh units since the time of its arrival in 2007.
Source - Financial Chronicle