Hyundai has showcased the HND-7 Hexa Space concept at the Sao Paulo Motor Show.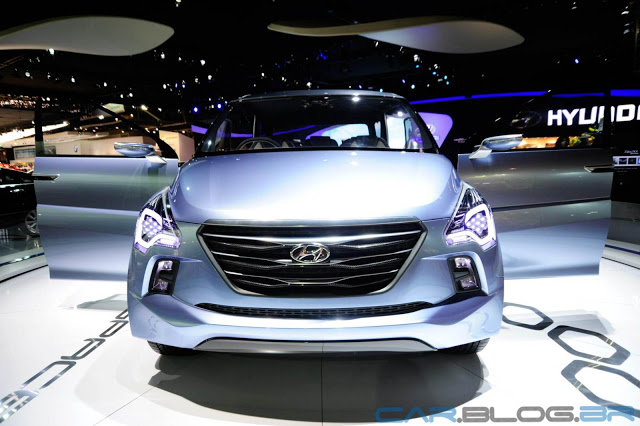 Hyundai's compact MPV concept with innovative seating solutions made its world premiere at the 2012 New Delhi Auto Expo.
Showcasing it at the Sao Paulo show hints that Hyundai is targeting the emerging markets with the concept which is set to give birth to a production model.
It's needless to say that in India, the production model will charge head on towards the successful Maruti Ertiga and upcoming family vans from Ford (B-Max) and Honda (Brio MPV). The HND-7 Hexa Space would then be the first MPV offering by Hyundai in India and at 2.75 m of wheelbase, it is identical to the Ertiga (2.74 m).
The MPV can seat 8 persons and the Hyundai engineers made it possible by cleverly packaging the second and third row seats in the form of hexagon, hence the name Hexa Space. The seats can be folded to have a completely flat floor for storage and also they can be adjusted for different settings to ensure that all the occupants are comfortable.
The concept MPV's looks are not in the same page as the 'Fluidic Sculpture' Hyundais and that's actually refreshing since all the modern Hyundais ended up looking almost similar.
The front is characterized by the bold hexagonal grill and the LED headlamps. The side profile remains true to a MPV and has sliding doors for easy access. The boomerang tail lamps define the rear.
The Hyundai concept is powered by a 1.2 litre T-GDI turbo petrol engine which is mated to a 6-speed auto transmission. Hyundai has not yet announced the complete engine lineup for the car which will certainly include diesel motors, neither did they divulge when the production model will be ready. They've said nothing about production.
Hey Hyundai, listen. Why don't you do a Maruti Ertiga and launch the production version of the HND-7 Hexa Space at the 2014 Delhi Auto Expo?
Hyundai HND-7 Hexa Space Concept from the 2012 Delhi Auto Expo
[can't see the slideshow above? Head over to Flickr]
[Source: Car.blog.br]