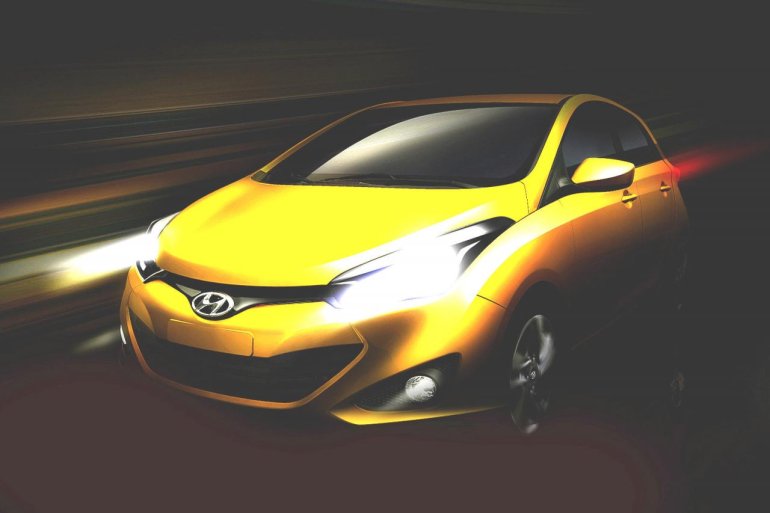 Brazil's car market is not that different from the Indian landscape. Global automakers throng to Brazil to tap the low car penetration levels, much like they do in India.
While entering a country or a new segment to sell a product, you stand to meet with success if you produce something that adheres to the local taste.
South Korean manufacturer Hyundai is now at the front of queue to introduce a Brazil-specific car. The HB20, which expands to Hyundai Brazil, is a mashup of the i20, Sonata and Eon.
Hyundai has not used the similarly-sized i20 in Brazil to compete in the B segment. The global car policy is not Hyundai's way of conducting business. Another example that stands testimony to this regionalized business model is the Sonata, which is a different car for Europe.
Hyundai recently offered the Brazilian journos a preview of the locally developed Hyundai HB20 and released one more teaser image. The Hyundai HB20 is basically an i20 enclosed in the Sonata's design theme.
The Hyundai HB20 will be offered in 1 litre and 1.6 litre petrol engines which are also compatible with ethanol. The 1 litre engine is a three-cylinder unit that produces an estimated 85hp driven using a 5-speed manual. The 1.6 litre engine is a 1.6 DOHC 16-valve engine that produces around 130hp. Four-speed automatic transmission is optional for this engine.
Hyundai HB20 feature roundup
Audio system with CD player
Aux and USB inputs
Multifunction steering wheel with height adjustment
Leather interior
Manual air conditioning
Power steering
Two rear head restraints
Trip computer
Rear parking sensor
15-inch alloys fitted to 185/60 tires
Fog lights
The HB20 will be assembled at Piracicaba, São Paulo. The plant is ready to roll out the car from September to dispatch cars to showrooms by October. Hyundai aims to sell 25,000 cars in the first year. Detailed information on the prices and variants will be revealed only at the time of launch, scheduled for 11 and 12 September.