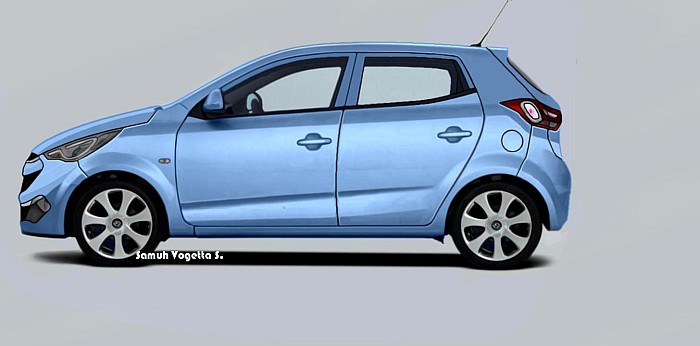 There have been countless speculations on Hyundai's forthcoming compact car scheduled for production at the company's facility in Chennai starting next year. While we have officially heard it will be a 800cc car, IAB has understood from its sources that the new vehicle will have a twist of i10 and Santro in its looks. Being the smallest Hyundai you can buy, it will be smaller than the entry-level Santro. One newspaper has even quoted an official divulging its starting price.
The Hyundai H800 could use a 5-speed manual transmission. There is a possibility of a diesel engine on this small car in the future, but during the launch next year sometime in March or April (speculative), it is expected with a 3-cylinder 800cc engine producing about 50hp.
Image manipulator Samuh Yogetta has published his version of the side view of the small car. The front-end borrows quite a lot from the ix-onic concept. The kink as the window nears the C-Pillar reminds us of the i10.
Being a low cost vehicle, will it be eligible for a full blast of Hyundai's fluidic sculpture design language applied on cars like the new Sonata and new Verna? Guess we'll have to wait and see.