When automakers bring their products to India, there are two inclusions that are compulsory
1) Beige interior
2) Chrome toppings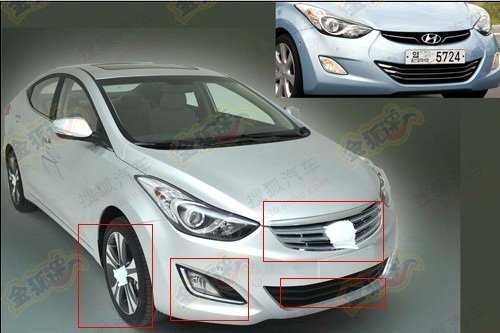 For the Chinese market, Hyundai is going all out, launching their third and latest generation Elantra model at the Beijing Show that begins on the 23rd of April. The market composition or trend is no different in China. The Cruze is a covering ground very quickly in the D Segment and Hyundai is looking to unseat Bumblebee's younger brother using the Fluidic design in the land of dragons!
Our friends at ChinaCarTimes.com expect the Elantra to wipe the floor with the competition but it isn't going to be as easy as it sounds.
The Elantra maybe renamed 'Lang Dong' for China and there are visual differences. A front chrome grille and modified foglight housings are clearly visible. The interior is more or less the same. The wheels made using spaced-out spokes look like they came off a Kia.
Hyundai had showcased the Elantra at the Auto Expo back in January without the bling seen on the Chinese version. Hyundai India may want to look at the Chinese model if they are considering last minute changes to the car's front-end.
India loves chrome embellishments and beige interior; Hyundai understands that, and provides generous amounts even on cars like Eon and i10.
[Source - ChinaCarTimes.com via auto.sohu.com]