Gets a 6-speed slushbox instead of Verna's 4-speed unit.
| | |
| --- | --- |
| Specifications | Hyundai Creta 1.6 Petrol Automatic |
| Dimensions | |
|  Overall Length (mm) | 4,270 |
| Overall Width (mm) | 1,780 |
| Overall Height (mm) | 1,630 |
| WheelBase (mm) | 2,590 |
| Fuel Tank Capacity (L) | 55 |
| | |
| Engine | |
| Displacement | 1,591 cc |
| Max Power (PS/rpm) | 123/6,400 |
| Max Torque (kgm/rpm) | 15.4/4850 |
| | |
| Transmission | |
| Type | 6-Speed Automatic (Torque Converter) |
| | |
| Fuel Economy (IAB figures) | |
| Urban conditions (km/L) | 7.4 |
| Highway Cruise (km/L) | 10.3 |
| | |
| Suspension | |
| Front | McPherson Strut with Coil Spring |
| Rear | Coupled Torsion Beam Axle with Coil Spring |
| | |
| Brakes | |
| Front | Disc |
| Rear | Drum |
| | |
| Tyre | |
| Size | 215 / 60 R17 |
| Type | Tubeless |
The Hyundai Creta is our benchmark in the compact SUV segment. Anytime a new SUV comes up for review, we pit it against the Creta in our minds (or physically, sometimes). It's also one of the best-selling SUVs of 2016 and has the widest range of powertrain options to whet your appetite. So when we heard that the new petrol automatic variant was available, we had high expectations. So this is our Hyundai Creta petrol review -
Demand for cars equipped with automatic transmissions has been on the rise lately, fuelled by the introduction of cheaper AMT (Automated Manual Transmission) in compact cars. The Creta's own diesel automatic variant accounts for a good portion of the overall sales figure.
However, petrol automatics (especially the ones with a torque converter) are known for chugging more petrol than its manual counterparts which, in a country where fuel economy is a key influencer in car buying decisions, may put off prospective customers from dropping the cheque, despite the clutch-less convenience and smooth transmission of power.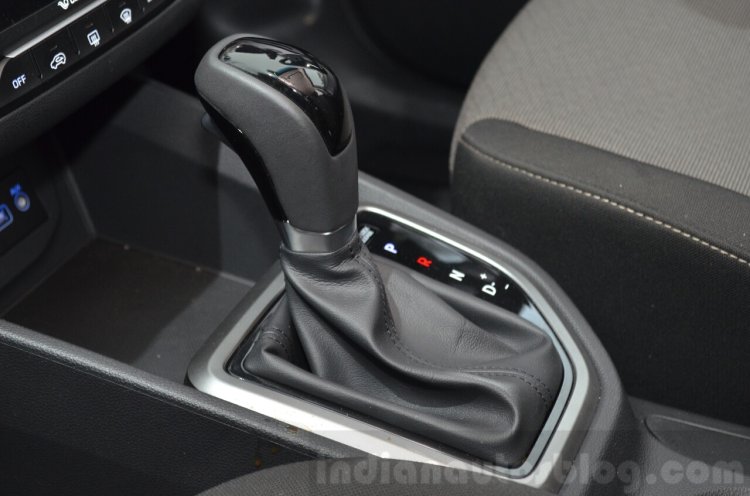 Irrespective of that notion, Hyundai had quietly introduced a petrol automatic version of the Hyundai Creta last year, which was previously exclusive to the Middle East. It combines the familiar 1.6L 4-cyl VTVT petrol engine with - thankfully - a 6-speed automatic (torque converter) gearbox, instead of the Hyundai Verna 1.6's 4-speed unit. The Hyundai Creta petrol price is set at INR 12,93,792 (ex-showroom Delhi, for the automatic transmission), which does seem a bit pricey at first glance, but still around INR 2 Lakhs cheaper than its diesel counterpart.
The petrol automatic variant is only available in the SX+ grade, which is a step below the range-topping SX(O) grade exclusive to the manual gearbox-equipped models. So people looking to acquire the automatic variant will miss out on a whole host of features such as side and curtain airbags, ESC, VSM, Hill Assist, auto door lock (seriously?!), leather seat upholstery, and the excellent Supervision cluster.
Since it's an additional variant, there are no design changes whatsoever. To differentiate from the manual SX+ variants, both petrol and diesel ATs get a sweet set of diamond-cut 17-inch alloy rims and an 'Auto' badge on the tailgate. For the interior, Hyundai has picked some features from the SX(O) grade and made it exclusive to the SX+ automatic variants, such as leather-wrapped steering wheel and gear knob, ISOFIX child anchor seating points, three adjustable headrests for the 60:40 rear split seats.
Arriving at the Hyundai Creta petrol specifications, the variant is powered by the single petrol unit in the Creta's engine lineup - a 1.6L (1,591 cc) naturally aspirated 4-cyl engine with dual VTVT, which produces 123 PS at 6,400 rpm and 151 Nm at 4,850 rpm. Instead of the Verna 1.6 petrol's 4-speed automatic unit, Hyundai has equipped a 6-speed torque converter with manual shift modes.
You start to understand and appreciate the Creta petrol AT's USP when it's being driven calmly in urban conditions. The 1.6 petrol is a refined and silent unit at low rpm, and transition between gears is as smooth as velvet. Even when you nudge the throttle to get a move on, the engine has enough punch to pick up speed, and dispenses power in a linear and progressive manner. Couple these characteristics to the Creta's supple suspension system, and it couldn't have been a better urban SUV.
On open highways, the petrol automatic is a competent mile muncher. With 123 horses to tap, it can hit a top speed of over 150 km/hr, although a target buyer would prefer to cruise silently at 120 km/hr.
The petrol automatic powertrain doesn't feign sportiness; it even lacks a Sports button. This is also easily noticeable when you floor the throttle pedal during an overtake. The gearbox will stroke its face and think about which gear should it drop down to, and by the time it decides, the window to overtake the car closes. It does offer the option of selecting gears manually so that you don't have to blame the gearbox for a failed overtake.
Being a relatively large petrol motor paired with a torque converter gearbox, don't expect stellar fuel efficiency numbers. In our bout, the Hyundai Creta petrol mileage was 7.4 km/L in urban conditions and 10.3 km/L on highways. With a lighter foot on the throttle pedal, one could eke out slightly better figures.
Verdict:
Even after driving it a year later, the exterior and interior of the Hyundai Creta feels contemporary and premium; continuing to justify its higher pricing against rivals such as the Renault Duster and Honda BR-V. And it's not just us; even the scores of buyers reverberate this opinion.
In the end, the question posed to us is: why should a customer go for the petrol automatic SX+, when the equivalent diesel automatic is more fuel efficient, has a punchier engine and is our recommended choice of powertrain? Simply because the price gap between the two variants is around 2 Lakhs, which cannot be easily stomached unless you must have the diesel automatic.
Of course, Hyundai does sell the diesel automatic in the lower S+ grade, which is still INR 63,000 more expensive than the petrol AT SX+. But you do miss out on projector headlamps, dual tone grille, push-button start, automatic climate control, and rear wiper.
If you're the sort of buyer who doesn't plan to put too many kilometres in a month and are looking for a comfortable, premium urban petrol SUV with a decent list of features, we recommend the Hyundai Creta petrol.