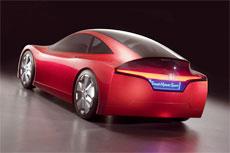 A top Honda Motor Co executive said on Wednesday (13th August) that the company's all new gas-electric hybrid that will compete directly with Toyota's Prius will be priced lower than the current Civic hybrid.
Richard Colliver, executive vice president of American Honda Motor Co, told an industry seminar in Traverse City that the new five-door, five-passenger hybrid will be launched next spring.
"We're targeting sales of 100,000 units of this new vehicle in North America," he said in a speech at the Center for Automotive Research Management Briefing Seminars.
The Civic hybrid starts at $22,600, while the Prius has a base price of $21,500. Colliver said Honda wants to make the hybrid affordable to a new generation of buyers.
Honda, which already has the most fuel-efficient lineup in the US, announced in May that it will sell the new hybrid-only Prius competitor in the US, Japan and Europe starting in early 2009. It also announced that it will build a new hybrid version of its Fit subcompact.
Toyota sold more than 181,000 Priuses last year, and so far this year it has sold more than 106,000. The Prius gets an estimated 45 miles per gallon (19 kilometers per liter) on the highway and 48 miles per gallon (20 kilometers per liter) in the city.