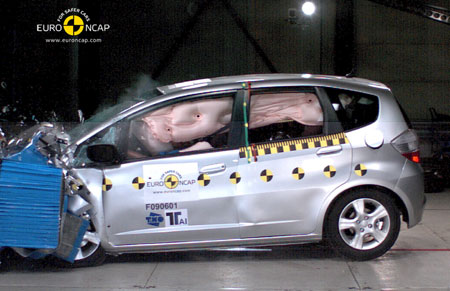 The latest EuroNCAP safety results are out and 5 out of 6 new cars crash-tested scored 5-Stars of which, we're interested in only three cars; Honda Jazz, Hyundai i20, Suzuki Alto/A-Star (the cars sold/yet to be sold here in India).
Euro NCAP's new rating scheme focuses on the vehicle's overall safety performance which gives consumers an easy to understand single score. The new system considers passenger protection during impact to the front, side and rear of the car, and pole (if the car impacts with a tree or other fixed narrow object). Child protection, pedestrian protection and the availability of driver safety aids are also considered.
This post is a compilation of crash-test statistics, pictures, videos and some amazing revelations based on the indexes provided by EuroNCAP, car by car.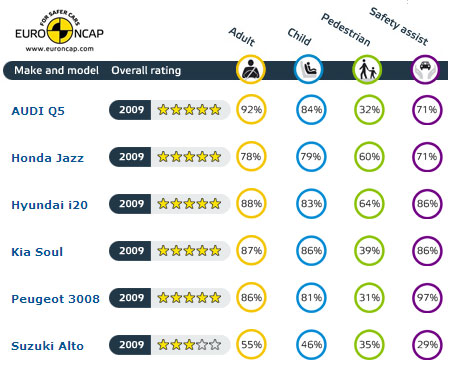 Honda Jazz
Honda Jazz - possibly the most awaited small car in India. The Jazz remains popular in the European market due to its no-compromise mix of value for money and frugality, combined with the cabin space and flexibility.

IAB says..
children in rear seats will be safer than adults in the front seats
a pedestrian run down by a Honda Jazz can hope to survive with minor injuries
safety assists like ABS, VSA & EBD can help you avoid crashing into trees
Hyundai i20
IAB says...
its the safest small car in India
children in the rear seats will less safer than adults in the front seats (now, children have a good reason to sit in the i20's front seat :-))
the pedestrian run down by an i20 can get back to being a pedestrian soon after the accident
86% for safety assists means its virtually impossible to crash an i20 into a tree.
no chance of killing an i20 driver when he is driving
Suzuki Alto/A-Star
The A-Star's 3-star rating shook the Suzuki Head-quarters so badly that the company now offers ESP(electronic stability program) as an optional extra in one of its base models.
IAB says..
certain death! (in case of a high speed crash)
children will be safer in factories
pedestrians should avoid getting close to Altos/A-Star or be brave and wear an armor (strong Divine intervention compulsory)
every attempt made to avoid crashing into a tree will go in vain
Source: Euro NCAP