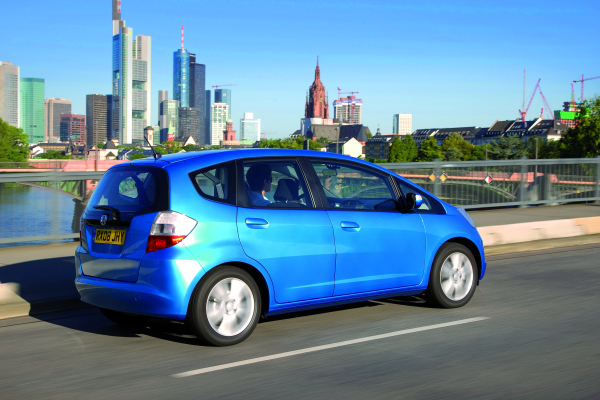 The Honda Jazz steals our spotlight since it goes on sale next month in India. Reports pertaining to the Jazz's cost have severed buying hopes fueled controversy, and yet again we are posting a figure, which isn't its price tag.
In the international arena, the Honda Jazz hasn't put a foot wrong. 500,000 cars have been sold in Europe alone since the arrival back in 2002. The supermini has 335 liters of boot space that is comparable to sedans of the same price range, and offers interior room that is comparable to cars on the bigger side in India.
A major slice of its success is attributed to its space and comfort. The Honda Jazz is credited with B-segment size, value and frugality combined with C-segment passenger space and boot capacity. In the recent crash test evaluation, the Jazz scored the maximum five stars, which signified its crashworthiness.
It is a ballsy daring move by Honda to drive a hatchback into the Indian market and price it above all the existing hatches including its classmates. The Jazz mounts on the new City's platform and a tailor-made 1.2-liter petrol engine for Indian customers sits under the bonnet.
The Tata Indica's success is often traced back to its unbeatable comfort/space combination. But another factor that helped the Indica take off was its price advantage, which operates against the Jazz.
What do ya think?
2009 Honda Jazz 500,000 sales mark Image Gallery
Press Release
The Honda Jazz has recently broken the 500,000 sales mark in Europe, demonstrating the continuing popularity of this perception altering 5-door hatchback.The Jazz caused a sensation when it was launched in 2002 with its mix of B-segment size, value and frugality combined with C-segment passenger space and boot capacity.Recently superseded, the 2002 Jazz was hugely popular and demand for the smallest European Honda was maintained right up until the launch of the all-new Jazz in 2008.

Commenting on beating the 500,000 sales mark, Honda Motor Europe, Senior Vice President, Ken Keir said: "The Jazz really changed things in the B-segment when it arrived in 2002. People are still amazed by just how much space there is inside both for passengers and luggage. We are thrilled to sell half a million cars and we are looking forward to continuing this success when we begin production of the Jazz at the Honda UK Manufacturing plant in September."

The Jazz introduced unique Honda technologies like the "Magic Seats" and centre fuel tank layout that helped define its immensely flexible interior. The mono-box design hatchback has developed a loyal following across Europe, with a significant percentage of customers having owned more than one example.

The latest Jazz which debuted in Europe last year has taken the qualities that made the first generation a hit and enhanced every single one. Vehicle scrapping schemes across Europe are further raising demand with customers who demand big car practicality and space being seduced by the frugal, low emission Jazz and its 399* litre boot.

*399 litres is made up of 335 litre main boot area and a 64 litre under floor area for models without temper tyre.
Source - Honda Blog