Hero Motocorp unveiled five new models for the Indian market this week. After ending its JV with Honda two-wheelers, this was a chance for the company to showcase the progress in R&D it had made. Below is a preview of the technical specifications of each of the five models unveiled on Wednesday.
Hero Xtreme Sports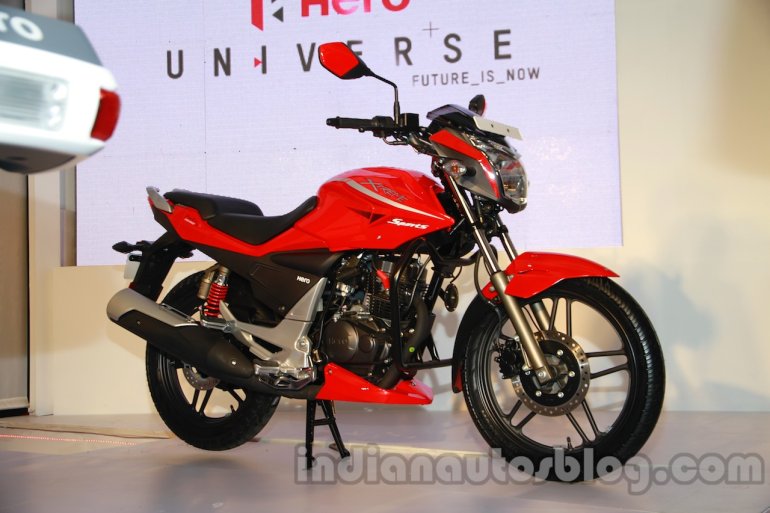 The Hero Xtreme Sports is powered by an air-cooled 149.2 cc engine that produces 15.2 hp and has a peak torque output of 12.80 Nm mated to a 5-speed constant mesh gearbox. It gets a 240 mm disc brake as standard and rear brake options include a 130 mm drum brake or a 220 mm disc brake. The Xtreme Sports has a 12.1 liter fuel tank and weighs 148 kg for the disc+drum option and 139 kg for the twin-disc option.
Hero RNT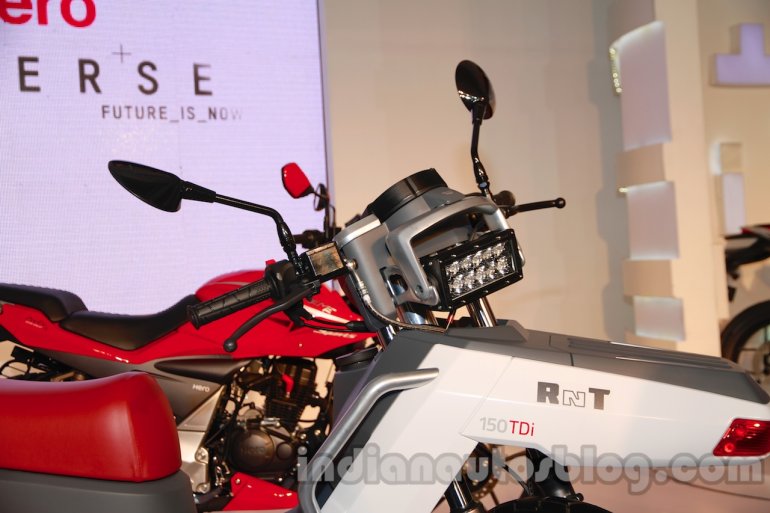 The Hero RNT is a liquid-cooled turbocharged diesel concept bike. Hero's really gone all guns blazing with the RNT as it gives you an option to add a hub electric motor in the front wheel, which is powered by an electric battery pack, to give the rider a unique two-wheel drive option where power to the rear wheel can be shut off, thereby making it a front-wheel drive electric bike.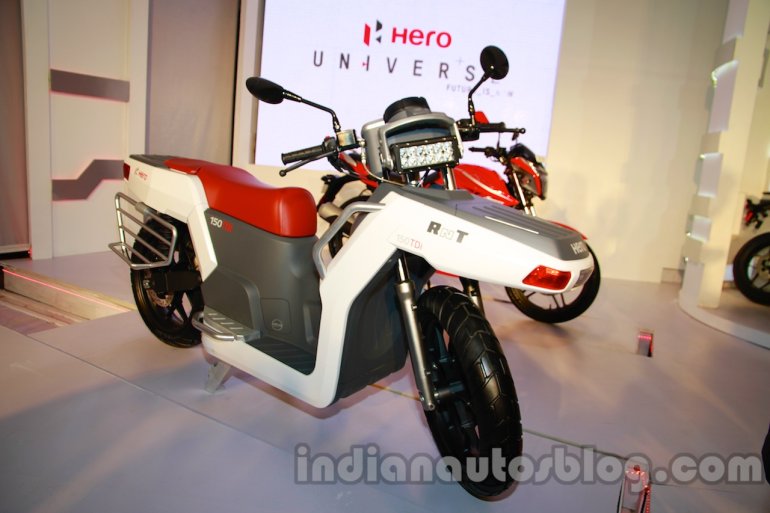 The RNT is powered by a liquid-cooled four-stroke 150 cc diesel engine that delivers 13.5 hp and has a peak torque output of 35 Nm. The RNT gets a six-speed gearbox and gets hydraulic multi piston caliper 300 mm rotor brakes at the front and similar 220 mm brakes at the rear. A 16 cell lithium-ion battery powers the headlights which can be repositioned.
Hero Leap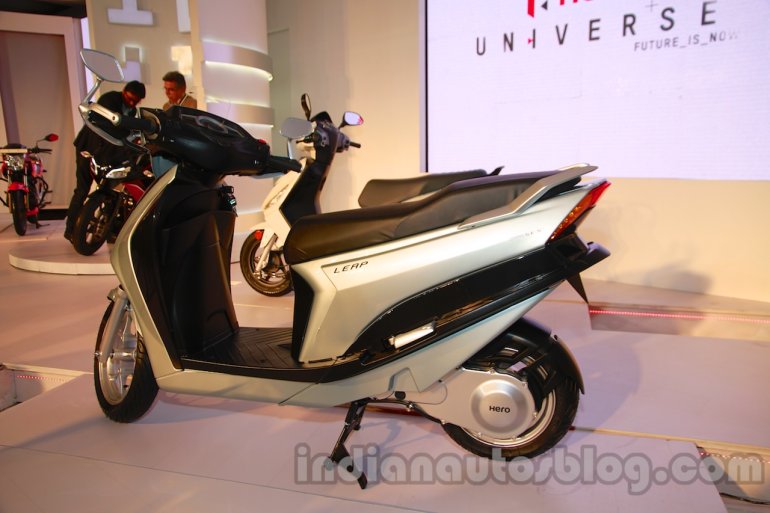 A pre-production form of the Hero Leap was also shown on Wednesday. The Leap, Hero Motocorp claims, is India's first electric-serial-hybrid scooter. The Leap was first presented at the Auto Expo 2012 and the company says "We are well along the path of putting the future into your hands," hinting that the Leap is close to being launched.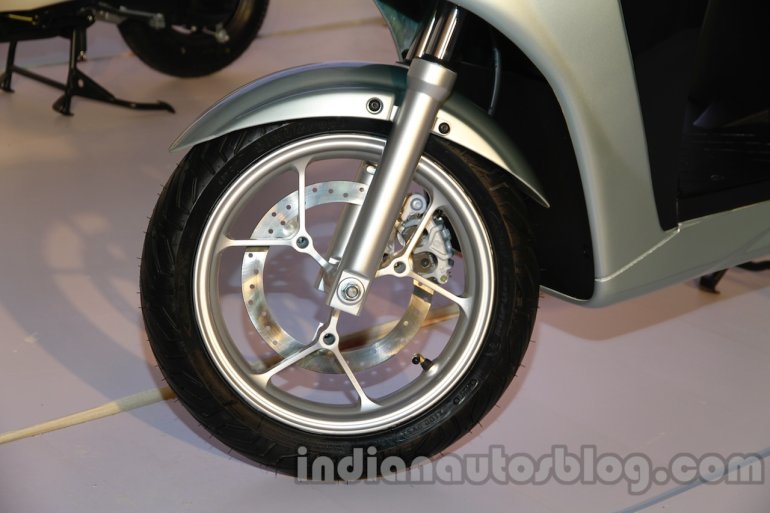 The Leap is built on a steel tubular frame and is powered by lithium-ion batteries coupled with a 11 hp electric traction motor with an on-board generator set powered by an all-new 124 cc engine. It gets a permanent magnet AC (PMAC) unit that delivers a maximum torque of 60 Nm from standstill.
Hero HX 250 R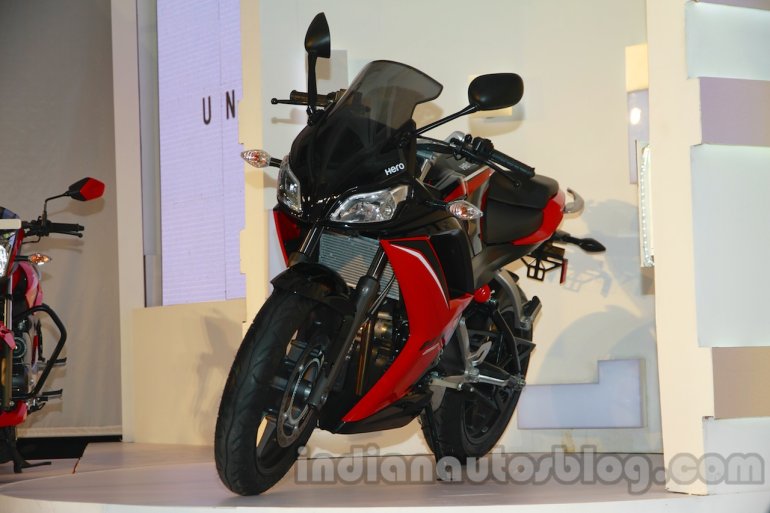 Hero Motocorp's first 250 cc sportsbike is powered by a liquid-cooled single-cylinder DOHC engine that produces 31 hp and has a peak torque output of 26 Nm. The geodesic tubular frame and underseat exhaust screams of Erik Buell Racing, Hero's technology partner.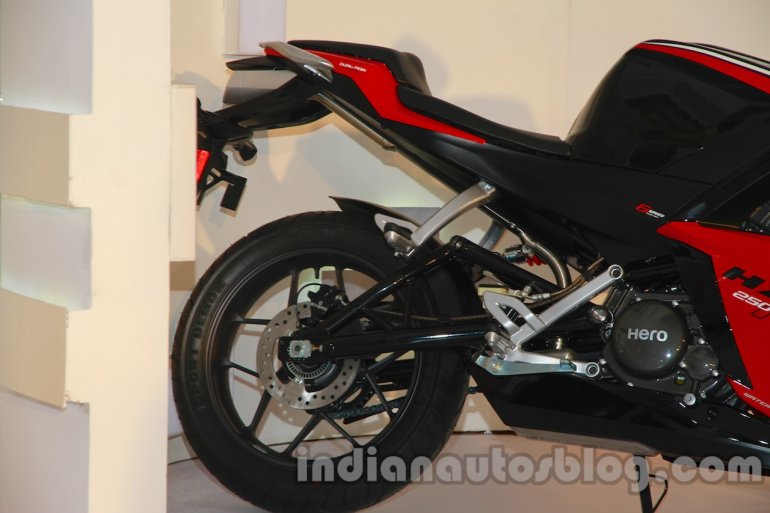 Carrying a six-speed gearbox and weighing just 149 kg, the HX 250R gets a 300 mm disc brake at the front and a 220 mm disc brake at the rear using a combined braking system with optional ABS, a la Honda's Combi Brake System.
Hero Dash The Dash is Hero's answer for the Honda Activa. It features a 111 cc forced air-cooled engine that produces 8.4 hp with a peak torque output of 9.4 Nm. The Dash is a pretty standard scooter, with little innovation apart from 12" tyres up front and the fuel-filling outlet placed outside rather than under the seat. The Dash also gets tubeless tyres and a service due indicator.
Hero Motocorp - Hero Dash, Hero Leap, Hero HX 250R, Hero RNT and Hero Xtreme Sports - Technical Specifications
[Can't see the tech specs? Head to SlideShare]