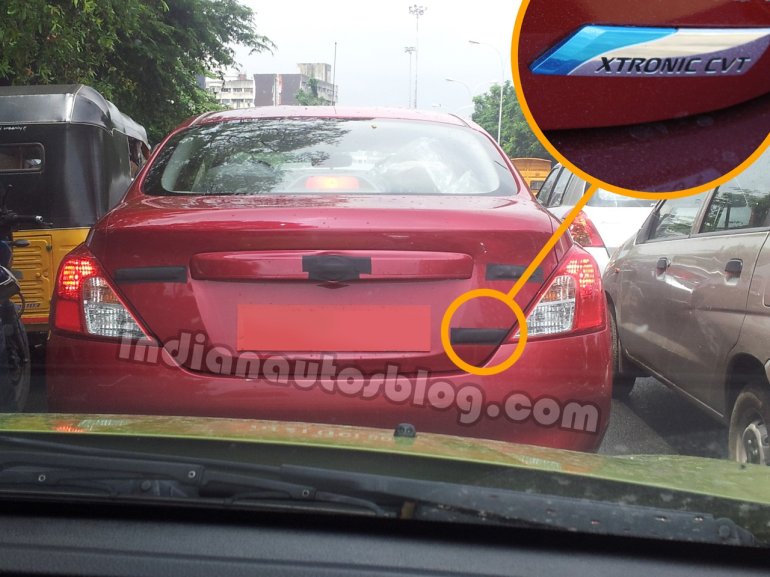 Nissan India is fitting an automatic transmission on the Chennai-made Sunny for the export markets, and if a test mule spotted last month by our good friend Gokulraj is analyzed, we can soon expect it in India too.
Can you tell us if there is any sense or logic in Nissan taping the badges of a Sunny that one can see and buy anywhere in the country? Yeah maybe the testers were a bit lazy to peel off the tapes, but the car spotted here is a new example with the plastic covers still in tact on the seats. This mule does not belong to the fleet that was part of the pre-launch testing program. This is a new test mule, with something new under the bonnet.
We're not trying to manufacture speculation, as when IndianAutosBlog.com quizzed Mr. Sanjay. G, Head of marketing at Nissan, about the possibility of introducing the Sunny AT in India, he replied that re-engineering the automatic transmission for the Indian conditions is underway. You should click that link to read the full interaction.
The shape of the badge which is located beside the number plate is reminiscent with the 'Puredrive' badges that are seen in global Nissan cars equipped with the X-CVT transmission.
The X-CVT (Xtronic-Continuosly Variable Transmission) is an automatic transmission which is found on several Nissan and Renault cars worldwide. X-CVT gearbox differs from a regular CVT by having an auxiliary gear to improve the efficiency.
Unless the Japanese can spring a surprise on us, the Nissan Sunny AT will be available only in the petrol version, letting Hyundai Verna to continue being the cheapest diesel automatic in India at Rs. 11.26 lakhs (ex-showroom Delhi). Pairing the K9K with the X-CVT would set the cat among the pigeons in India, but the volumes maybe too thin to justify the investment.
Renault India has also confirmed its interest in selling the Scala AT in India one day, at the media preview held prior to the launch.
Mr. Sanjay acknowledged the development of an India spec auto transmission for Sunny, however he refrained from putting down a date or time.
G.K. Gokulraj is our daily visitor working to reintroduce his second start-up MyCopie that is tipped to shake up the stationery market.