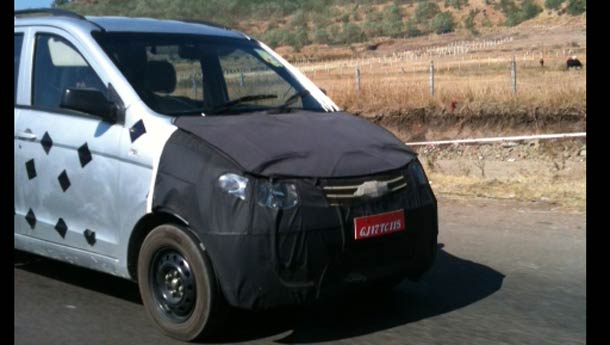 With Maruti Suzuki all excited about the launch of their new MPV – Ertiga at the 2012 Auto Expo and Toyota India prepping up the new Innova, Uncle Sam is cooking something that would spoil the party. After a long time, BS Motoring has snapped the GM-Wulling Hong Guang MPV undergoing tests donning the Chevrolet bowtie on its front.
Earlier this year, this same test mule was spotted in Vadodra and Bangalore which revealed most of what is in store. The Hong Guang (let's hope it's not called that in India) MPV can seat 7-8 people in reasonable comfort (2nd and 3rd row have flat-folding seats).
Little known fact is that the ride and handling of this MPV was done by Lotus Engineering (by-word for handling). Under the hood, GM might plonk a 1.3L SMARTECH XSDE engine which debuted in the Chevrolet Beat (in a lower capacity).
Internationally, the Wuling Hong Guang offers a lot of electronic goodies such as:
Anti-lock brakes with electronic brakeforce distribution
Dual-safety airbags
A LED high-position stoplight
Reverse parking sensor
Central door children's locks
Anti-theft system along with the automatic car tracking function.
We will have to wait to find out what will trickle down in the India version.
Source: BSMotoring.com