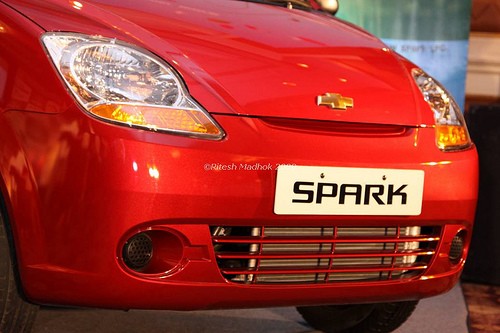 We saw this one coming. Today, the press gathered in the country's capital to witness a one of kind partnership between two very different auto companies.
It was to convey that GM India and REVA have joined hands to bring out electric vehicles.
The companies will also work with the government to setup the required infrastructure for these vehicles. GM's platform's will be handed to REVA who will fit it with their technology. The end product could also be shipped to European countries, which are better prepared to handle electric vehicles.
No word on the vehicles that will enjoy the result of the partnership. The earlier report stated it will be the Spark. We think the new Spark would also be a good idea.
Our sources add within twelve months from this notice, GM India will roll out its first EV.
Let us see.
click through to read the press release
Press Release
New Delhi, September 24, 2009: General Motors India and Reva Electric Car Company (REVA) have entered into a collaboration agreement to develop electric vehicles for the Indian market. This unique partnership will bring together two companies, established in their own field to develop car platforms, electric vehicle technology and advanced control systems.

The agreement was announced jointly by Karl Slym, president and managing director, General Motors India and Chetan Maini, deputy chairman and chief technology officer, REVA.

Karl Slym, President and Managing Director, GM India said, "We are pleased to join hands with REVA to bring affordable small car platform based electric vehicles to the market in line with government objectives to reduce fossil fuel dependence. GM's ability to develop platforms and REVA's capability in developing electric drive-trains and control systems will result in, the consumer having a wider choice of EVs. We are going to be working closely with the Central and State Governments in India to develop infrastructure for electric vehicle charging and providing specific financial benefits to consumers, who make the choice to adopt an environment-friendly mode of personal transport."

Speaking on the occasion, Chetan Maini, Deputy Chairman and CTO, Reva Electric Car Company said, "This unique collaboration symbolizes a global trendsetter for partnerships that will result in far reaching changes in the industry. Each of the partners will use its strengths, with the aim of making India a global hub for the development and manufacture of electric vehicles and related technologies. I am extremely happy that we have found a partner in GM India that shares our passion for reducing carbon emissions".

Development of small electric vehicles is a growth area around the global automotive industry and we are excited that this cooperation with REVA in India will accelerate GM's progress to meet the emerging needs in many parts of the world " , said Nick Reilly , President of GM International Operations . GM is pursuing several energy alternatives and advanced technology options to meet the varied needs of customers around the world. GM believes that electrically driven vehicles, based on battery and hydrogen fuel cell technology, offer the best long-term solution for providing sustainable personal transportation, he added.

The two companies have begun feasibility studies of GM's vehicle platforms sometime back to host the electric technology and they will announce more details about the vehicles soon.