GEMBALLA Automobiltechnik of Stuttgart, Germany, has come up with a new steering wheel that promises good riddance to all the PDK gear changing miseries.
The stock Porsche PDK steering wheel has always been a point of debate, because of the awkward placement of the thumb shifters. PDK drivers often complain that, changing gears when cornering is always a nightmare.
With GEMBALLA steering wheel though, the concept of 'thumb-shifting' has been completely scrapped. Gemballa has brought back the F1 style paddle shifters (behind steering wheel), which are more comfortable and easier to use. The new steering wheel is equipped with a full-size air bag, but navigation controls and audio controls had to go. It features a 3-spoke design and can be covered in leather or ultra suede combined with carbon fibre or aluminum.
Stock Porsche PDK steering wheel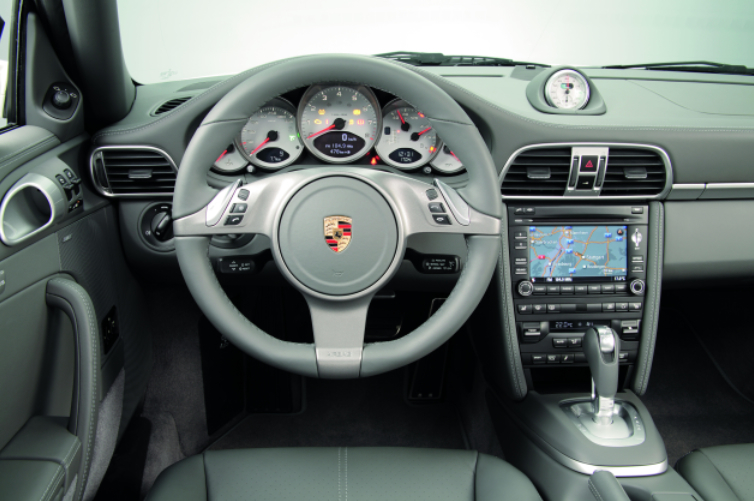 GEMBALLA Porsche PDK Steering wheel

The GEMBALLA Porsche PDK steering wheel costs 1,680 Euros.
Source: ZerCustoms
Press Release:
Clever accessory for the new Porsche Doppelkupplung transmission – The GEMBALLA 340mm full-size air bag steering wheel with classic F1 rocker switches
GEMBALLA Automobiltechnik GmbH & Co. KG from Leonberg near Stuttgart has the solution for afflicted users of the Porsche Doppelkupplung transmission (PDK). Awkwardly positioned gears and an illogically located gear selection have so far reduced the pleasure for the latest gearbox generation by Porsche. But enough of that: With the new sport steering wheel and its clever F1 rocker switches which are positioned behind the steering wheel rim and the classic gearshift scheme – right for shifting up and left for shifting down – the renowned Porsche refiner GEMBALLA has devised a sensible solution for freewheeling and fast gear shifts. Measuring only 340 mm in diameter and with its ergonomic shape for exceptional grip, it is highly suitable for a sportive use.
Also visually, the new steering wheel leaves a perfect impression: With its modern 3-spoke design, it perfectly integrates into the current Porsche interior. Each customer can select from numerous material- and color variations matching each serial- or special edition. Entirely by hand, the GEMBALLA interior decorators cover the steering wheel rim, -airbag, -core and –hub with leather or ultra suede and combine it with segments of carbon, varnish or aluminum if desired. The horn key and rocker switches are anodized in black.
GEMBALLA – the specialist for High End Porsche refinements and innovative interior design offers its steering wheel, approved by the Technical Control Board, for all Porsche models with PDK at an introductory price starting from 1,680 Euros.
For more information about the extensive GEMBALLA refining program, please visit the web site www.gemballa.com