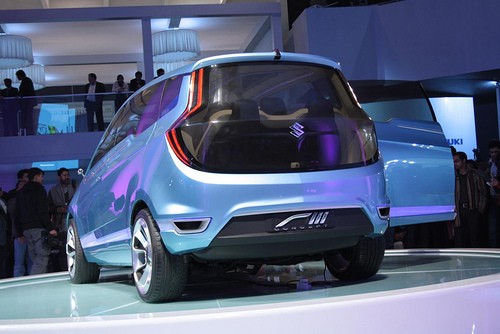 The Suzuki R3 will be India's smallest MPV and developed wholly by Maruti engineers
Speaking to the Economic Times recently, Shinzo Nakanishi MD and CEO of Maruti Suzuki has divulged information regarding the Japanese major's future plans for the Indian market.
Nakanishi says the Jimny SUV is an option they are considering since the Gypsy has worn out. The small volumes discouraged Maruti from assembling the Vitara in India.
The R3 MPV showcased during the Auto Expo will be the smallest MUV in India and wholly developed by Maruti. It will be positioned in a new segment, and new segments will help Maruti retain market share in India.
The company is also working closely with its suppliers to make the entry level Alto cheaper. We expect the new Alto to be launched in the next two months with a 1.0-liter K-Series engine.
Nakanishi has been pursuing engineers in Maruti to develop a suitable diesel engine for the SX4. Apart from this, Suzuki has also been developing diesel engines in Japan.
Nakanishi saan could also look at smaller engines in VW TDI lineup for the SX4 in the future now that the partnership is on.
Suzuki R3 MPV Image Slideshow
can't see slideshow above? Visit the Suzuki R3 MPV Concept Image Gallery directly to view the images
Source - ET