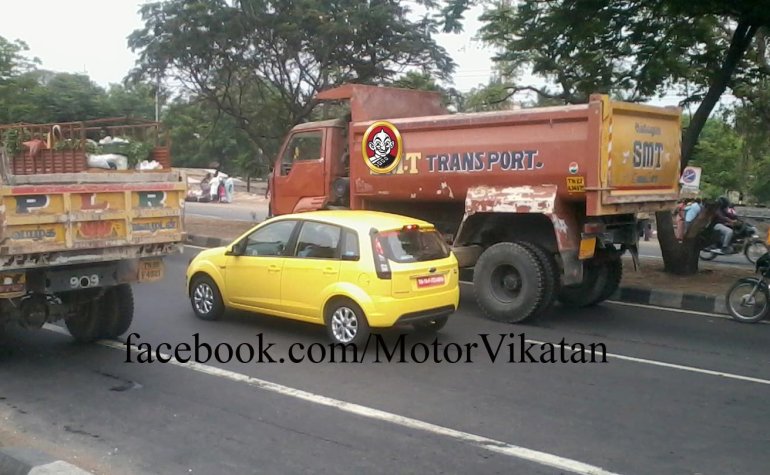 Ford India is still waiting for its turn to launch the EcoSport mini SUV. The automatic version of the Fiesta was the company's sole launch in 2012, apart from the reshuffling of the Fiesta variants. Instead of whiling away time, the American auto maker has turned attention towards its existing product line. The company's best selling model, Figo, has been on the market since early 2010.
Plenty of launches have unfolded in the last two years in the B-Segment and with many more to come, Ford may have been convinced to advance the launch of the facelift. Regularly upgrading products is the easiest way to keep the customer interested.
A Motor Vikatan reader has snapped the Figo with new school bus yellow paintwork and cosmetic changes. The head and tail lights have been redesigned while one can also see duct tape pasted near the fog light area. The Figo is a re-skinned and heavily localized Mk5 Fiesta. Ford India is also about to realize its ambition of exporting the Figo to 50 countries.
Speaking to Indian Autos Blog last year Ford India officials ruled out the usage of the new Fiesta's 1.5-liter diesel on older products stating that it was a wiser idea to invest on a new platform. It'll be interesting to see if company is including new features or the Ford Figo facelift is a merely handful of visual changes.
[Source - Facebook.com]