The compact sedan segment is all set to get a new entrant in the Ford Figo Aspire. Ford India have revealed the technical specifications of the Figo Aspire, and below is a spec-sheet comparison of the Figo Aspire vs its competition.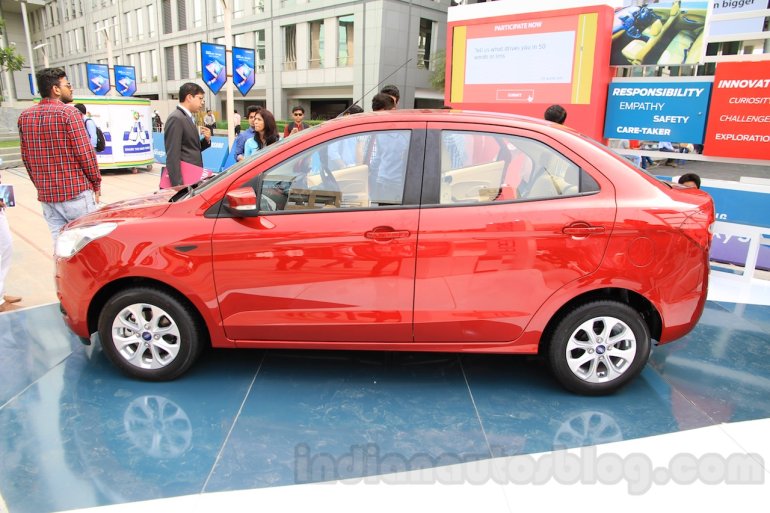 Dimensions:
All cars in this segment measure 3,995 mm in length, save for the Amaze which comes in at 3,990 mm. At 1,695 mm in width, the Figo Aspire and the Maruti Dzire are the second widest cars in their segment. However, at 2,491 mm the Figo Aspire is the new benchmark in the wheelbase department, followed by the Zest and Dzire.
The Xcent and Amaze lead with their 400+ liter boots, while the Figo Aspire comes close to the Zest's 360 liter trunk. The Dzire continues to offer the least at 315 liters.
Petrol:

Ford India will offer the Figo Aspire with a 1.2-liter Ti-VCT and a 1.5-liter Ti-VCT paired exclusively to its 6-speed Powershift DCT gearbox, the most advanced in this segment. Hence, the 1.2L Aspire makes 88 PS similar to the Amaze, whereas the 1.5L model has a class-leading 112 PS of power.
Thanks to its turbocharger, the Zest makes the highest torque in this segment at 140 Nm, but even the 1.2L Aspire is up there with its competition. In the fuel efficiency department however, the Dzire continues to lead with a 20.85 km/l ARAI-rated mileage.
Diesel: The 1.5-liter TDCi diesel engine on the Figo Aspire makes 100 PS, on par with the Amaze, making them the most powerful cars in this segment. At 215 Nm, the Figo Aspire generates the most torque as well. All cars get a 5-speed manual transmission save for the Zest which also gets a 5-speed AMT as an option.
The Figo Aspire has outpaced the Amaze on the fuel efficiency front, with an ARAI-rated 25.83 km/l figure. However, like in the petrol segment, the Dzire continues to lead in this department with a class-leading 26.59 km/l.
Ford Figo Aspire - Official Image Gallery