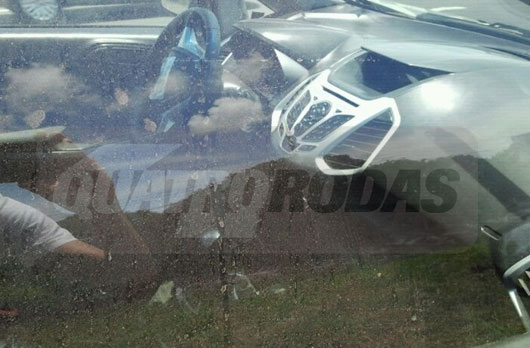 Our friends at Quatro Rodas magazine in Brazil posted a reader spyshot of the EcoSport's dashboard photographed near the car's future manufacturing facility of Bahia today. The center console of the test mule is a mix of the control panel seen on the B-Max and the global Fiesta, likely to feature on the production model as well.
The aircon vents are wrapped around the center console to point away from each other. The infotainment screen could be slightly bigger while the steering wheel and instrument binnacle are Fiesta-inspired. Ford hates beige interiors, seen yet again with the EcoSport that follows the standard black with silver highlights scheme.
As Quatro Rodas rightly puts it, many Ford enthusiasts were disappointed to not be able to see the interiors of the car. The interior was hidden away using tinted glass, even if it was just a mock-up of the production version.
Ford could introduce the EcoSport in India during Diwali or just before, we're yet to hear from them on the launch date.
None of our readers have spotted this car testing in India. None have surfaced on enthusiast forums or Facebook pages which may mean that testing is yet to begin. Ford could conduct the global launch of the EcoSport at Auto China in the third week of April. The New Delhi event back in January was the premiere of the concept car.
Ford has confirmed the 1-liter Ecoboost engine that produces 120PS for the mini SUV but they are yet to come out with the specifications for the diesel option. It is popularly believed that the 1.5-liter diesel engine used on the Fiesta, is pegged to be recaliberated for application on the EcoSport.
[Source - QuatroRodas.Abril.com.br]