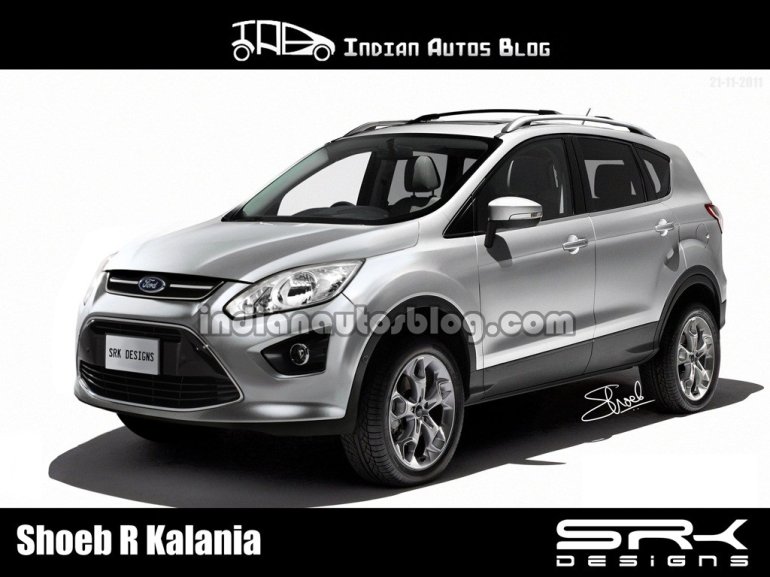 We won't bother with introducing the next generation Ford EcoSport as you have seen us writing volumes about it for the last couple years. The next generation EcoSport built on the Ford B-Platform is going to break cover next year.
Codenamed B515, it's Ford's big ticket model for the fast developing China, India and Russia. Component wise, it borrows heavily from the global Fiesta and is expected to adopt a similar interior layout.
Ford's re-entry to the Auto Expo next January is an opportunity for the EcoSport to introduce itself to the Indian market. This is new body style that's expected to draw heavy interest from sedan and hatchback customers. Renault, Maruti Suzuki and Mahindra are said to be in various stages of development of their respective EcoSports. Its a bridge model between the hatch and sedan with the appearance and features of a SUV.
With petrol cars given step-motherly treatment in India, Ford's fuel-sipping 1.5-liter diesel engine is a perfect partner for the EcoSport to make inroads. Ford has to position the EcoSport carefully or else it could be easily misunderstood for something else. Being a mini SUV, the ideal spot exists between the Figo and global Fiesta.
What are the benefits EcoSport brings to Ford India?
1) First mover advantage - Besides the slow-selling Premier Rio, can you show me another car in this high-potential space? Before Mahindra readies its low-price, high-feature competitor, Ford can establish the EcoSport as the original mini SUV and improve it over time. The EcoSport can be what Xerox is to the copier machine industry.
2) Product gap filler - With just four products (Figo, Classic, Fiesta and Endeavour), there are wide-open spaces Ford has to fill to improve its market share and address the need of every buyer. Besides Figo buyers in the next couple of years will be ready to trade in their cars for a bigger replacement.
3) Number cruncher - If it turns out to be a smash hit, Ford without breaking into a sweat can clock about 4k-5k units every month that can take them closer to Toyota and General Motors in the number game.
4) Female driver's delight - With raised driving position, tight overhangs and expanded boot volume the EcoSport is already a hit with women in Brazil where the Figo-based version is selling. There is a large chunk of female buyers who are low in driving confidence but aspire for something more than a hatchback. The EcoSport is the answer to their prayers.
5) Starting point for a premium hatchback? - If the EcoSport pulls in huge crowds, Ford is in a better position to determine what a premium hatchback customer is looking for. What about customers who don't like the EcoSport, need an alternative and aren't ready to downgrade to a Figo? The global Fiesta is too expensive for them and they realized that a bigger, more powerful and stylish hatchback is what they are seeking all along.
6) Welcome to the Ford family - If the driving dynamics of the EcoSport is in the same league as global Fiesta, they are highly likely to stick on to the Ford brand. As they move up in life, they would look at Ford for a 7-seat MPV or SUV, two products which we hear are in the pipeline.