Fiat's new found fondness towards SUVs and MPVs is now an open secret. The Italian automaker already has the Fiat 500L mini MPV in the stores and is now working on a compact crossover SUV dubbed the 500X and an extended version of the 500L called the 500XL.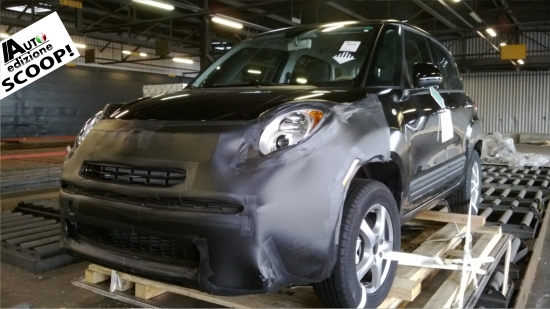 Little is known about the upcoming crossover SUV except the fact that it will be underpinned by the group's Small Wide platform and the car would appear something like a jacked up Fiat 500. The mini SUV would be produced at Fiat's extensively revamped production facility at Melfi, Italy, alongside the new baby Jeep which also based on the same platform.
Autoedizione.nl has managed to lay its hands on the spyshot of the Fiat 500X test mule which is disguised with the bodywork of the 500L. That explains why Fiat didn't feel the necessity to camouflage the body. The front fascia however is heavily disguised. The test mule seems to be ready to be transported to someplace for testing.
While the front is instantly recognizable as a 500, the shape of the headlamps and the front grill are noticeably different from that of the 500L. A single glance is enough to notice that the 500X sits slightly higher than the 500L.
The Fiat 500X is expected to share its powertrain options with the 500L and the upcoming 500XL. Expect more spyshots of the car in the near future.
[Source: Autoedizione.nl]