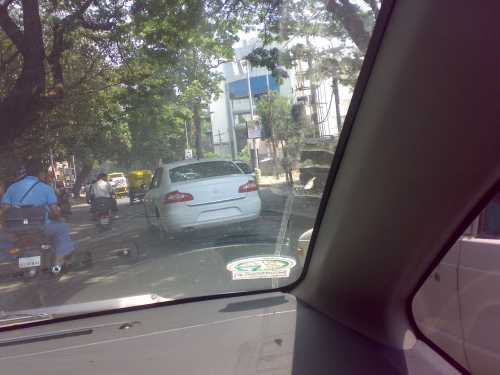 Regular Indian Autos Blog reader Sulakshan has emailed us what he claims is the Skoda Superb Hybrid test mule. These pictures were captured in Bangalore city, a locality where Skoda extensively evaluated the regular Superb.
Sulakshan informs us there was a green block letter "hybrid vehicle" badge on the front left fender and as the driver sensed he was being followed, he stepped on the pedal and sped away. Sulak claims he rolled down the window to confirm from its silent operation but the busy road proved noisy. His ears could pick up nothing, or rather could not pickup 'nothing.'
A little probing on google verifies Skoda has no hybrid technology at the moment. Maybe this is their first attempt? Could Porsche's hybrid technology be under the skin of this Superb? It could be anything.