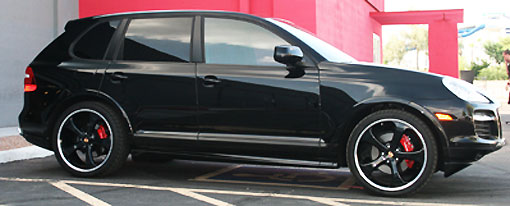 The other day, I saw a red coloured Porsche Cayenne GTS on the expressway near my residence. I was speculating it belonged to some movie star or a wealthy politician, but to my astonishment, it was one of my pal's birthday gift from his father! It appeared stunning in red and the sound it makes when revved, is utterly breathtaking.
Apart from the 1000's of readers who swarm into IAB everyday, this tuning news bit might be more appealing to him. Evolution Motorsport, a tuning company which maybe considered as one of the best, has come out with a kit for the Cayenne GTS and turbo (I wonder who would want to tune and get more power out of the over-powered Cayenne Turbo).
The Cayenne Turbo's ECU gets fiddled with, which effects in a leap of either 65hp/86lb-ft (48kW/116Nm) or 70hp/93lb-ft (52kW/126Nm), relying on whether it's fed with 91 or 93 octane fuel. Adding the EVOMS V-Flow air induction system increments power by 82 or 91hp (61/68kW), and 103 or 110lb-ft (139/149Nm) of torque, which once again rests on on the Octane rating of the fuel. Pricing for the software tune solely is $3,500, while the V-Flow intake will cost $695.
Coming to the Cayenne GTS, a equivalent procedure was set about, but the profits are considerably slighter. Base tunes bear either 19 or 21hp (14/15kW) and 22 or 25lb-ft (30/34Nm) of torque, while supplementing with the unique intake system polishes the gain to 27hp or 29hp (20/21kW) and 29 or 31lb-ft (39/42Nm) of torque. The GTS kit is more affordable at just $1,800 for the ECU tuning and the same $695 for the intake.
Components which can optionally be attached are a sport exhaust, intake plenum, custom aerodynamic parts and wheels by Techart, and the shop's own EVOMS carbon components. Whether you prefer to fill up 91 or 93 Octane, your car will unquestionably have better response and increased maximum speed, as the dyno results reveal below.
Source- 4 Wheels Blog