After creating a stir with its electric performance motorcycle at the 2018 Auto Expo in Greater Noida, Bengaluru based Emflux Motors has revealed what's ahead. Emflux ONE, the brand's all-electric performance motorcycle, will be followed by the Emflux TWO, an electric streetfighter. However, the motorcycle is still in the very early stages of development, and it will be a while before it is production ready. Also read: Mahindra Mojo Electric variant spied in India for the first time
Emflux Motors revealed the very first image of the motorcycle on its Instagram page. The teaser reveals the silhouette of the streetfighter and was promoted with the hashtag #FutureFighter. Details are scarce although the Emflux TWO will most likely be the naked variant of the Emflux ONE.
Although the teaser only reveals the silhouette, the fuel tank and the rear of the motorcycle look similar to the Emflux ONE showcased in Greater Noida.
While the Emflux ONE used clip-on handlebar and a full-fairing, the Streetfighter will most likely feature a flat, single-piece handlebar. The handlebar style will result in more comfortable ergonomics than the Emflux ONE. The absence of fairing will make the Emflux TWO marginally lighter, although it would result in more windblast at high speeds.
The Emflux TWO would most likely retain all the premium hardware, such as Brembo sourced brakes and Ohlins suspension from the Emflux ONE.
Mechanically, the Emflux Two would likely have the same specifications as the Emflux ONE. The Emflux ONE, as seen at the 2018 Auto Expo in Delhi, was equipped with a lithium ion, liquid cooled modular battery pack with Integrated High Power Samsung Cells. The motor on the Emflux ONE is capable of producing 71 bhp of power and 75 Nm of torque which can propel the motorcycle from nought to 100 kmph in just three seconds. The top speed is electronically limited to 200 kmph.
The electric motor is claimed to be capable of returning 200 km range on a full charge although that number will vary depending on the person's riding style.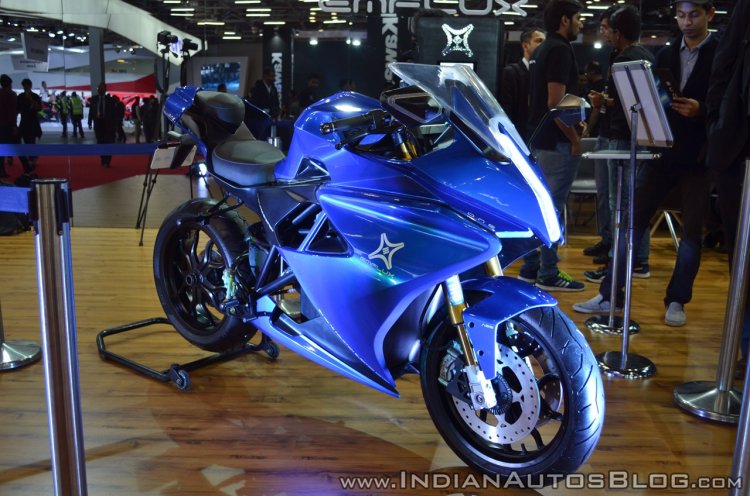 Also read: Tronx One electric bike launched in India at INR 49,999
The electric streetfighter is scheduled to arrive after the Emflux ONE which will be launched in 2019. Thus, it wouldn't be entirely incorrect to expect the motorcycle at the 2020 Auto Expo.