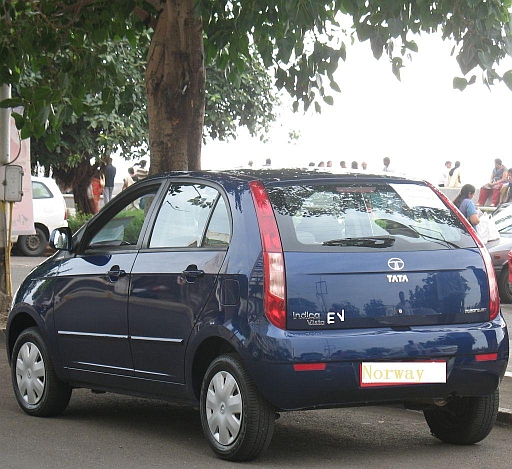 The newly launched Tata Indica Vista will take part in the demonstration program in Norway which is scheduled sometime during this year and the next.
The Electric Tata Indica Vista will employ a drive train sourced from Canadian company TM4. It will give the car 80 bhp and 170 Nm of torque. This motor is the latest from TM4's line with the highest possible efficiency the company has reached.
Tata had shown off an Electric vehicle based on the previous Indica, which would go on sale in Norway. A fuel cell Indica with ISRO is also in the works, and not to forget the Compressed Air technology Tata has invested in,  shows Tata's serious environmental commitment. Both the electric and fuel cell, with possibly a hybrid Indica will hit showrooms in the next 3 to 5 years in India.
Press Release-
TM4 partners with Tata Motors and Miljø in electric vehicle demonstration project
TM4 has been selected by Miljø Innovasjon, a subsidiary of Tata Motors, to provide electric motors, power electronics and vehicle controllers for an electric car demonstration program to be launched in Norway in 2009–2010. Under this program, Miljø will produce over one hundred units of an all-electric version of Tata Motors' new Indica Vista.
For this project, Tata Motors and Miljø will benefit from TM4's latest generation of motors for the automobile industry, the leading-edge TM4 M?TIVE TM series. This series is the product of a decade of R&D efforts. Incorporating TM4's patented technologies, the motor has the best power-to-weight ratio in its class and industry-leading efficiency.
TM4, a subsidiary of Hydro-Québec, develops and supplies high-performance electrodynamic conversion and power control systems for the international electric drivetrain and distributed power generation markets.
Tata Motors Limited is India's largest automaker, with revenues of US$9 billion in 2008. The company is a leader in the passenger vehicle market and is also the world's fourth-largest truck manufacturer and second-largest bus manufacturer.
Miljø Innovasjon, in which Tata Motors holds a controlling interest through its subsidiary Tata Motors European Technical Centre, produces electric versions of vehicles manufactured and sold by Tata Motors.