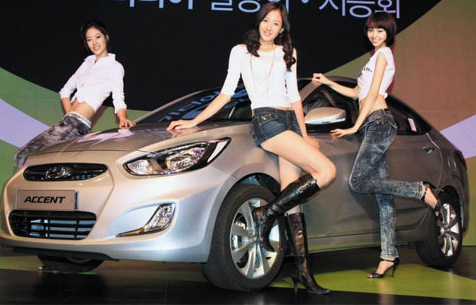 Nov 2 saw the launch of an eagerly awaited global sedan from Hyundai. The 2011 Accent subcompact sedan (caught testing in Tamil Nadu last month) is finally out of the bag. This is such a big step forward from the out going model. It is a direct derivation of the Hyundai Solaris that was shown at the Moscow Motor Show and that's not what we expected because most production models are miles apart from the concept. This isn't and that is what makes it a real looker!
The fluidic sculpture designed certainly makes the new Accent look more upscale and the grunt is provided by 1.4L MPI and 1.6L GDI four-cylinder petrol engines generating 107 and 140 bhp respectively.
Both engines are mated to a 6 speed manual or automatic gearbox. The car boast features such as Vehicle Stability Monitoring and Control system, navigation system with 6.5 inch LCD Screen, Eco Lamp, Push Button Start with Smart Key, leather interior, active headrests and many other premium features.
Sales will start from 2011 and there are plans to sell 500,000 units of 2011 Accent globally!
The car maker also promised to introduce Idle Stop & Go system (ISG) on all cars that it will make from here on in an effort to be 'Green'.
Obviously this car won't make it as an Accent or as Verna to India as Hyundai has rules out retirement plans for these vehicles. Will they use the "i" naming convention or will they stick with Solaris?
We're told that the new Verna is expected in India by the end of 2011 with the current Verna's 1.5-liter diesel engine. And we can't wait to get our hands on one!