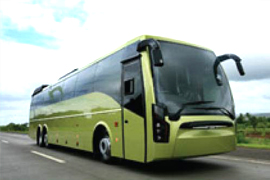 Blue Hill Pvt. Ltd, a Bangalore based company has come up with what can be called the Rolls Royce of the Bus world.
The company, in association with acclaimed designer Dilip Chabbria has launched a super luxurious inter city bus service called the Luxuria in Bangalore City for passengers to Chennai.
These Volvo buses ooze out luxury. It is fitted with high grade leather seats that host a range of adjustments that can be operated electronically. The bus is also fitted with individual screens for each passenger along with movies on demand. Live Satellite TV is also available. Wi-fi is also a part of the package.
Passengers can also nibble on a range of delicacies that are available on board. Toilets are also built in. Refrigerators and microwaves are also available on-board Luxuria.
The first three services will culminate at Hotel Sabari Classic on OMR Road at Sholinganallur in Chennai and the last service departing from Bangalore will culminate at Hotel Radha Regent, Koyambedu Chennai.
Initially there are 12 buses with an investment of 30 crores that will be expanded to 250 buses in due course of time. Other cities are also being considered for tgis bus service.
The company behind this project says that this bus service is aimed at air travelers. This bus will provide all those business class & first class plane travelers similar luxuries at cheaper rate.
Dilip Chhabria's Luxuria Image Gallery
Source - luxuria-travel.com