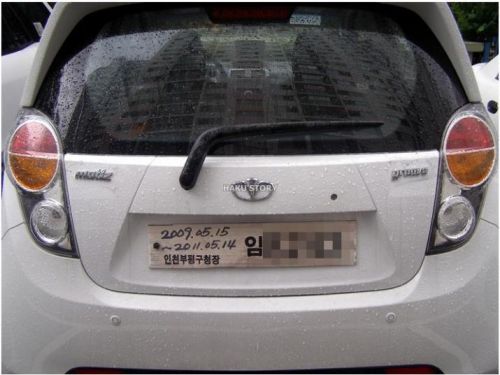 Our South Korean follower Park, sent in this informative link. The car you see here will be sold in India as an upgrade to the existing Chevrolet Spark, come this December. In India it will be sold as a Chevrolet, but in Korea, it will be sold as a Daewoo.
The GM-Daewoo Spark Groove was spied in South Korea. The images show that this is an Automatic gearbox variant.
Glance at the party pixeled rear number plate. What do you think "2011.5.14" is doing there?
The Chevrolet Cruze is sold as the Daewoo Lacetti Premiere in South Korea, so one cannot imagine 'Groove'  to be carried over on the re-badged vehicles. In India, GM could either go the Maruti Suzuki way and name the car after its concept 'Beat,' or use put a suffix to the word Spark.
Source - Hank Yung