Though a Dacia Duster Pickup (Renault Duster Pickup in non-European markets) is an interesting proposition, there is no solid evidence to ascertain how close the load carrier is from reality.
The recent spyshot by Auto Plus' reader who goes by the name "Christmas" could be the first proof for the existence of a cargo carrying derivative of the Duster. Two units of the Duster pickup - one camouflaged and one fully undisguised - have been spotted on-board a flat-bed truck in France.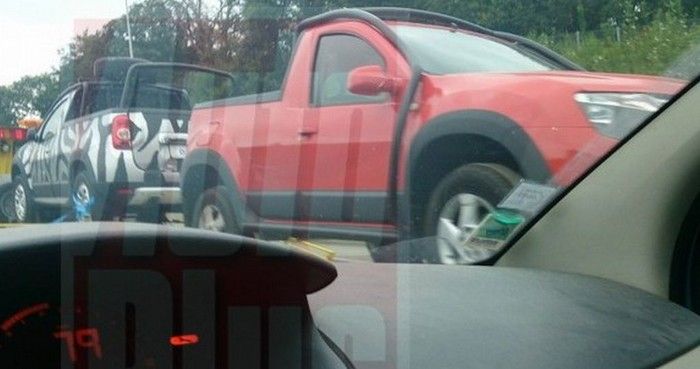 It needs to be said that, though the camouflaged pickup appears to be a development mule, the duo could be a good aftermarket job. The pickup, if approved for production, would be an upmarket replacement for the aging Logan Pickup which is based on the previous gen sedan, with a payload capacity of 0.5 - 1 tonne.
One may expect single and double cab variants to be introduced, powered by petrol and diesel engines borrowed from the SUV sibling. Technically, both front wheel drive and 4WD variants are possible. The load carrier would be marketed as the Dacia Duster Pickup in European countries and as the Renault Duster Pickup in markets like South America and Africa. India is unlikely to get the pickup variant, or so we think.
Assuming the spyshots show the pre-production mules of the official Dacia Duster Pickup, one could expect the Renault-owned Romanian automaker to unveil it at the Paris Motor Show in October before going on sale in 2015.
Competitors in Brazil: Fiat Strada, VW Saviero, Chevrolet Montana
[Spy image from Autoplus.fr]