Renault-owned Romanian automaker, Dacia, has announced that it has manufactured 500,000 copies of the Dacia Duster at the company's factory in Mioveni as of December 3, 2013. The first Dacia Duster was rolled out of this plant in January 2010.
The 500,000th car is an olive colored Duster that is powered by a 110 hp 1.5L diesel engine, turning all four wheels. This vehicle is already on its way to its French owner. France is one of the leading European markets for the Duster where the car enjoys about 3 percent of the nation's car market.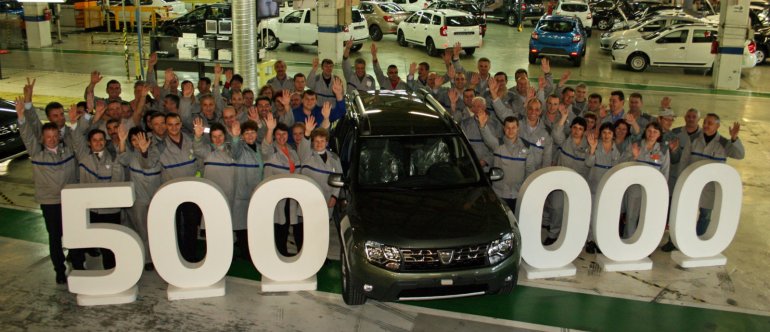 The Duster is Dacia's best selling model and represents 40 percent of all vehicles made at the Mioveni factory. 95 percent of all vehicles made at this site have been exported. The factory is currently making the updated Duster which is fitted with a new MediaNav infotainment system, rear parking assist, cruise control and a 1.2-liter turbocharged petrol engine that makes 123 hp and 250 Nm (but isn't available to the Renault Duster).
While over 85 percent of the Duster is localized in India, some components such as the 4WD system is imported from the Romanian facility. The Duster is based on the Renault Sandero platform, and is among the top 3 models in its segment in countries outside Europe such as India, Brazil and Russia.