Indian Autos Blog caught up with Nagesh Basavanhalli, Managing Director of Chrysler India Automotive, at the inauguration of RDC Motor, Fiat's first independent dealership outlet in Chennai last month. Basavanhalli revealed how his 1,000-member strong team at the R&D center in Perungudi, Chennai, is increasingly playing a significant role in every Jeep that is born, regardless of the segment, geographic location or sales volume. His company is the largest R&D outfit for Chrysler in the Asia Pacific region.
Nagesh, thank you for speaking to Indian Autos Blog. I'm going to start with the Jeep Grand Cherokee facelift which was shown in Detroit last month with significant upgrades to its looks as well as mechanical changes. Is this the model that will launch in India?
Nagesh: Yes. The one that you saw is the one that's coming. We waited to get the latest product to India and India's going to get the latest technology and the latest product.
Has your company played a role in this product?
Nagesh: Absolutely. Both the 2014 as well as the original [2011] Grand Cherokee, which was first launched back a couple of years ago, right when we first started an alliance with Fiat and Chrysler, a significant part of that was worked out of the Chennai technical center and even our China technical center. So we played a role, whether it was in terms of the design, development, or engineering of certain components, especially in the case of interior and electrical and stuff like that, and also sourcing some of the components from China. So Asia-PAC had a big role to play as part of the development of the Grand Cherokee program.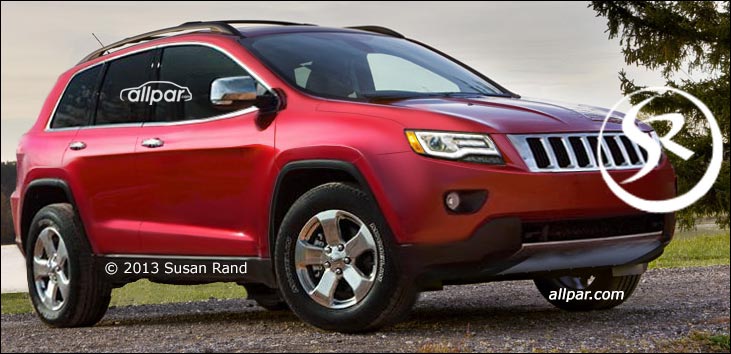 I know the Liberty's also moving to the next generation…
Nagesh: You're well informed, yes.
Are you playing a role in that?
Nagesh: Absolutely. Absolutely. Because we started our genesis engineering center here supporting Chrysler, we grew from supporting one program to now we're supporting pretty much all the programs for Chrysler North America. Pretty much all the programs. Since then, we've expanded our presence because of the [expansion of the Fiat and Chrysler] group presence [in Asia] now. We are also supporting Fiat in Europe, Fiat Chrysler in Europe. We are also supporting Fiat Chrysler in America. So now, if anything else, to answer your question, absolutely. Pretty much all the programs that Detroit is involved with, from an outer perspective, we are involved in some shape or the other. In some cases it may be limited; in some cases, it may be very extensive. It depends upon the scope.
So as a global technical center… for example, in some cases, we may be working on seats. In some cases, we may be working on door trims or exterior. But in some cases, like the entire computer simulation, it's all done here. It's pretty much globally about 60% of the workload for the computer simulation, right, is all done here. So it's done out of the Indian technical center.
The Compass which was shown at Detroit, the minor facelift, was there some input coming from your side?
Nagesh: Definitely. On the simulation, and I think on some parts of interior, but definitely on the simulation side, significant involvement from us. Yes. Computer simulation, I mean CIE and stamping simulation and all of that.

Moving on to the next product, the B-Jeep, which is going to be in the B segment. Maybe a Jeepster, I don't know what you're going to call it.
Nagesh: We don't know the name yet.
Is it going to be sort of based on Fiat's platform which is used on the 500X?
Nagesh: Because it's a brand new platform and because the work is just beginning and a lot of the things are on the drawing board, I would not like to get into the details. A lot of options are taken into consideration.
The Jeep platform is very special to us. The Jeep customer has unique tastes: go anywhere, do anything, be available. Right? So taking a look at the global requirements of the Jeep, because it's going to be a global product, it's going to be done up for several parts of the world..obviously it's also going to be brought into India, but [meeting] unique Indian requirements.
The way we do that cycle is we take a look, okay, these are the requirements from several parts of the world. It goes in. And then there is a core design that comes out. And then we also say okay, what are the things that we need to do to satisfy the Indian customer more or the European customer more, right? So it may get adapted. So we're looking at several options in terms of the platform. But the bottom line is it will be a true Jeep. It will be a Jeep, and it will be on the right platform.
Read about the product plan Jeep announced for India until 2016
The engines for this particular Jeep, considering it as something small in Jeep, and Jeep isn't known for doing anything small...would you use the 1.4 T-Jet [Fiat turbo petrol engine]?
Nagesh: Well, because it's a future product strategy issue, I would not like to comment on that. But just stay tuned. I think some very interesting stuff is going on. We will be discussing that in the near future.
We asked Mr. Marchionne whether they would bring a watered-down Wrangler to India, through our friends at Allpar.com. Being an average Indian, even if I'm an off-road enthusiast, the Wrangler looks like a glorified Mahindra Thar to me..you know, the heritage is something completely different. I know which is the original and which is a copy. But it looks, to the layman's eye, like something that is not very premium. So it's not like a luxury SUV that Jeep promises to be. But he said we will not do any watering down..we will not do a stripped down edition as such because the Wrangler stands for something and values would be lost. Is there an Indianization kind of program that you follow with the Wrangler?
Nagesh: No, like he said, the Wrangler is a brand icon. It's our pillar because it stands for everything. It's one anchor of the brand, right? So we will continue to protect that product, right? To your point also, I think we all know which is the original. So we know the capability, we know the capacity, we know what the product can do. And we feel when customers take a look at the product, I think they will make the right decision. So absolutely not. The product will speak for itself when it comes.
Thank you for interacting with us.
Nagesh: Nice to meet you Shrawan, thank you!