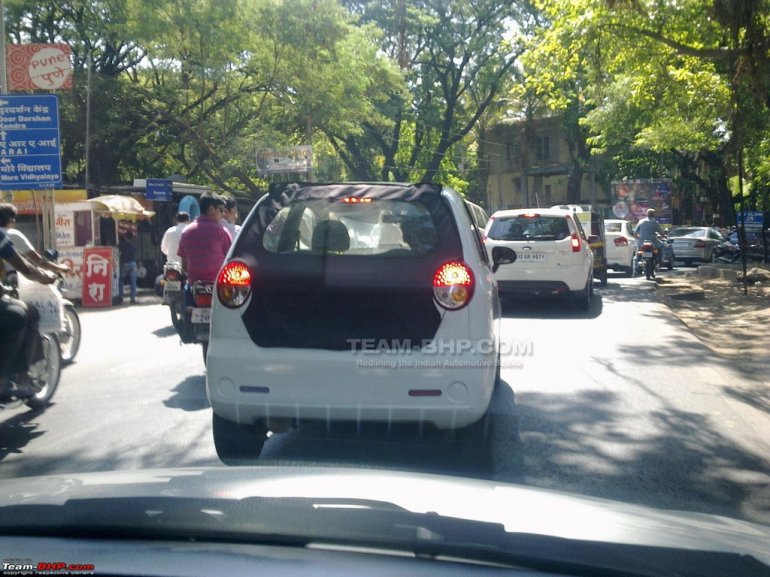 Remember back in March 2012, we brought you an exclusive scoop that GM India is all set to update the Chevrolet Spark to breathe some life into its sales figures. Well, forum member Adi K from Team-Bhp.com has proved us right!
We first sensed that GM India is going to infuse changes into the Spark when we spoke to GM India's Vikas Jain at the 2012 Delhi Auto Expo. Jain said the Spark needs a look change and customers are happy with the performance. He stressed on keeping costs in check and didn't sound very optimistic about Smartech technology for the Spark's 1-liter motor.
A camouflaged Chevrolet Spark was spotted doing its testing near Paud Road, Pune. Unfortunately, no frontal pics are available as of now. But I am sure IAB's eagle-eyed viewers would snap one soon.
There are many speculations in the automotive community that this camouflaged Spark is actually a diesel variant. But sadly, Mr Jain also told us that there are no plans to introduce a diesel Spark in India.
Over the years, the Spark has seen many changes to the powertrain and to the interiors. As the Daewoo Matiz, it was an 800cc hatchback. Since it turned into the Chevrolet Spark, the looks of the car have remained pretty much the same. The new rivals like Hyundai Eon and the upcoming Maruti small car are miles ahead of the Spark in terms of design. As a result, Hyundai is clocking 8,000+ units of the Eon every month.
With Maruti all set to bring in an 800 cc entry level hatchback to replace the Alto F8D, the little Spark is definitely feeling the heat. Let's not leave out the entry of the Datsun brand in India. A facelift could inject some life in the sales figures.
For now, we cannot comment on how soon would this facelifted model be available in showrooms because there is hardly any official information available. But as always, we will keep you updated on the latest happenings in this direction.
Source: Adi_K from Team-bhp.com