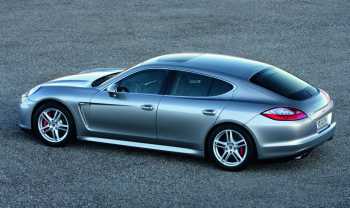 Porsche's Four-door coupe - the  Panamera will be available in the Indian market by October for a price that will range from Rs. 1,41,74,000 for the entry level Panamera S, to as high as Rs 2,01,84,000 for the Panamera Turbo.
"We are working on a simultaneous launch of the car in Indian as well as international markets. We are hopeful of welcoming the car in India by late September or early October 2009," Rod Wallace, Managing Director of Precision Cars India, the official importer of Porsche vehicles said.
Porsche came to India in 2007. The company currently sells four models (imported CBUs), the fifth entrant being the Panamera will first be showcased at the Shanghai Motor Show, that will be held from April 22-24.
FACT: In 2008, Porsche sold 168 units in India. 98,600 units were sold globally during the same period !
Porsche Panamera Image Gallery
Porsche Panamera Interiors