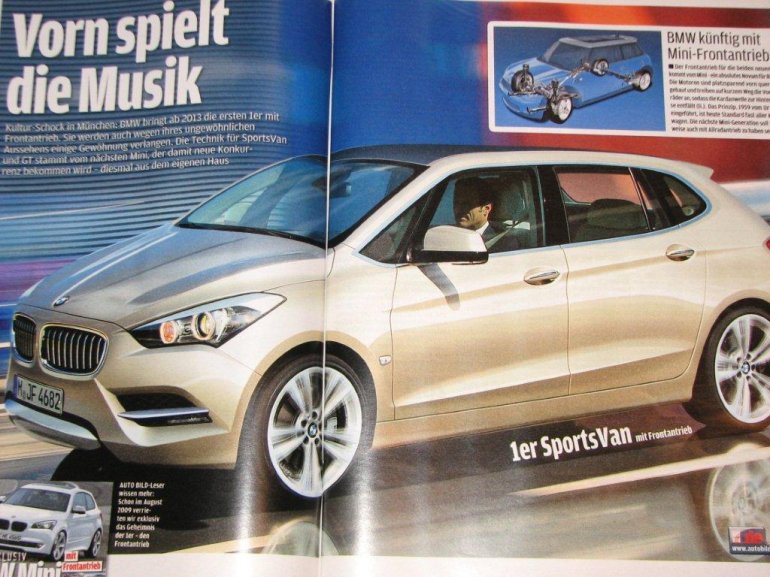 What? A front wheel drive BMW? That's sacrilege! The ultimate driving machine cannot be front wheeled drive.
Well, if you are of this opinion then you better be ready for change.
BMW is all set to present the first front wheeled drive product at the upcoming Paris Motor Show. The concept version of the FWD is touted to be called the 'BMW Compactive Sport Tourer.'
It will translate into a GT version of the BMW 1 Series when it heads to production in 2014. Essentially, it is a sports van based on the BMW 1 series.
Why is BMW breaking traditions? Well, it isn't actually. This new BMW 1 Series GT is based on a new versatile platform, that is a derivative of the MINI Cooper Platform, which as we all know, is a FWD architecture.
The new platform is both lighter and slightly larger than the current MINI's. Its versatility will ensure that a whole product line can be based on the same platform enabling the manufacturer to gain economies of scale.
Despite of breaking tradition, BMW will infuse its DNA into the new 1 Series GT. It will feature a tall boy design with key BMW characteristics such as a sloping roofline and a large glass house. A narrow kidney grill and double barrel headlamps will enhance the front fascia of the BMW 1 Series GT.
The 1 Series GT will be powered by ultra fuel efficient three and four-cylinder turbo engines. The idea is to make a more practical and cheaper-to-run alternative to the 1 Series hatch. The petrol attack will be lead by 1.5-litre three-cylinder and 2.0 four-cylinder petrol engines.
The diesel onslaught will be lead by 1.5 three-cylinder and a 2.0 four-cylinder turbodiesel. Both engines will be mated to either a six-speed manual gearbox or an eight-speed automatic. BMW is planning both hybrid and fully electric versions of the front-drive 1 Series as well.
BMW plans to compete against the Mercedes  B Class Sports Tourer and the upcoming MST based on the Mercedes C Class platform with the 1 Series GT. Hold your breath till September as we get you all the details from the launch.
[Source: BMWblog.com, 1addicts.com & AutoBild.de]