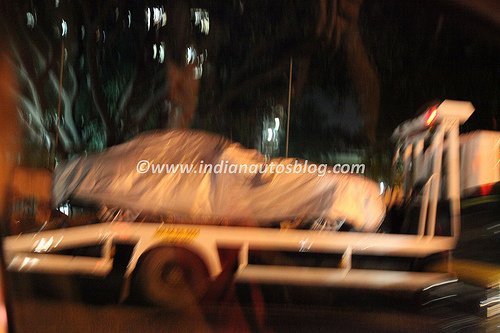 A BMW Z4 with the covers on sits in a trailer transporting it to the launch floor
Driving down the main roads of Mumbai at 7.30 PM,  I notice a trailer carrying something with a weird shape. I moved closer and my initial thoughts were correct - it is a car.
I tell myself it must be a car that was involved in an accident, and is transported to workshop for repairs.
Wrong.
I happen to see the BMW logo on the wheel when the neatly covered car gets upset by the oncoming wind.
Well well.. I begin to think hard which BMW has such a low-slung stance, long wheelbase and is on the Indian radar -- instantly the Z4 pops into my mind. Luckily I have my cam onboard -- Click Click and I have a fully covered BMW Z4 in its memory.
The driver sees me and immediately stepped on the gas -- he's driving a truck for pete's sake -- how will that ever be faster than my 100+hp Verna?
Factors like slow moving traffic and a poor power-to-weight ratio kept him in my sight and I started clicking. As I moved closer to the trailer, I noticed the wheels, the sillehoute of the car cannot be mistaken for anything else - its the BMW Z4 getting transported to the launch site, which will also be visited by me on Monday. Only this time, I promise to come back with shots of an uncovered Z4.
BMW Z4 Spied in India Image Slideshow
If you can't see the slideshow above, visit the BMW Z4 Spied in India Image Gallery to view the images.