2011 has been a high-yield year for BMW India. At the start of the year, BMW India set themselves a target an aggressive target of 10,000 units and they came very close (8,000+ as of now) to reaching it. As the year comes to an end we needed to know what is the Bavarian giant planning for India in 2012.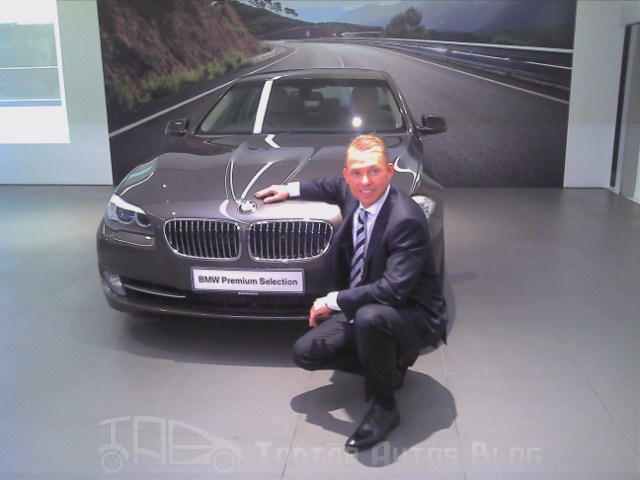 Yesterday, at the launch of BMW India's pre-owned car business, we caught up with Dr Andreas Schaaf, the head honcho and the key person responsible for BMW India's success, to discuss the company's 2012 plans.
Snapshot of our conversation:
330D convertible launches in December
BMW Leasing program is ready to be deployed in December
BMW India plans to showcase a surprise concept car at the 2012 Delhi Auto Expo
Major focus on 'Mini' brand at the Auto Expo and throughout 2012.
Big plans to promote 'M' performance models in India
No CKD operations of the 7 Series immediately
No corporate edition model of the new 3 Series in 2012 or for that matter of any BMW cars.
What can we expect from BMW India in the last month of 2011?
We will officially launch the 330D convertible in the month of December. It will be an emotional car because we are not only building the volume model but we are also trying to build an emotional connect which is very important for a premium brand like BMW and the 330D convertible will certainly be a phenomenal car.
BMW India will also launch its leasing program in December. We have finalized the proposition and we are waiting for the integration of the IT & Legal systems. There is a team of 24 people working on the leasing plan and we will be ready for a rollout in December 2012.
Has the slowdown in the Indian car market affected BMW India's plans for the Auto Expo?
No, nothing has changed. I would have expected higher sales in October which did not happen. It is still a very good number as compared to our competitors and we are leading in October. So there is no need to change anything on short term. I believe that the purchasing sentiment had slowed down the market. It is not that people don't have a interest in buying cars but they are only postponing their purchase.
So what do you plan to showcase at the 2012 Delhi AutoExpo?
The major focus will be on the Mini brand. Apart from that, we also plan to showcase a surprise concept car at the AutoExpo. (He did not reveal any details of the surprise concept car. But personally, I think Dr Schaaf is hinting either towards i8 concept that was showcased at Frankfurt or VisionEfficientDynamics. Considering VED has already visited India, let's hope it is the i8)   
Speaking about the Mini brand, what is the development on that front?
We have a clear plan right now on how to develop the Mini brand in India. We have appointed two dealers in Delhi and one in Mumbai. Then, we will extend the brand to Chandigarh, Pune, Bangalore, Hyderabad, Ahmadabad and Calcutta. We are currently hiring people to work in the dealership.
Do you plan a CKD operation for the BMW 7 series in India?    
My plans for the BMW 7 series was to make it a leader in its segment by the end of this year. In September, we came very close to the current leader and the difference was just 40 units. But after that, we cannot say anything now because they (Mercedes) have stopped revealing their sales numbers.
There are no plans for a CKD operations right now. From my perspective, this is not a price driven segment. I don't think reducing the price will generate sales. It will always be a limited segment and I don't think that one can increase the segment by reducing the price.
What are your plans for 'M' performance brand in India?
I think we have to focus on performance models in India. We haven't focused on it too much in the past. But the performance models will become a major part of the strategy in 2012. We will have more dedicated touch points for the M performance vehicles in our dealerships.
The next big bang will definitely be the new 3 Series. What are your expectation from it with respect to the Indian operations?
The new 3 Series will be as successful as the 5 Series. It has the same genes as the 5 Series and it will lead the segment in India as it always has. It is fantastic to look at and it will be fantastic to drive. So we are very confident about it.
Will we have a corporate edition of the new 3 Series?   
Earlier, the 3 Series was the entry point of the brand so we launched the corporate model to welcome more customers. Now, that duty is done by the BMW X1 so there is no reason to have a corporate models on 3 Series or for that matter on any models of BMW.
So that's all for now folks. Do you have any suggestions for BMW India? Put them in the comments box below and we will make sure that they are conveyed.