BMW has taken off the covers from its uber-stylish BMW 650i convertible. The event happened in city of palaces Udaipur.
The gorgeous roadster has been priced at hefty Rs 95 Lakh rupees (ex-showroom price). The 6 series comes as CBU being directly imported as per order from Germany.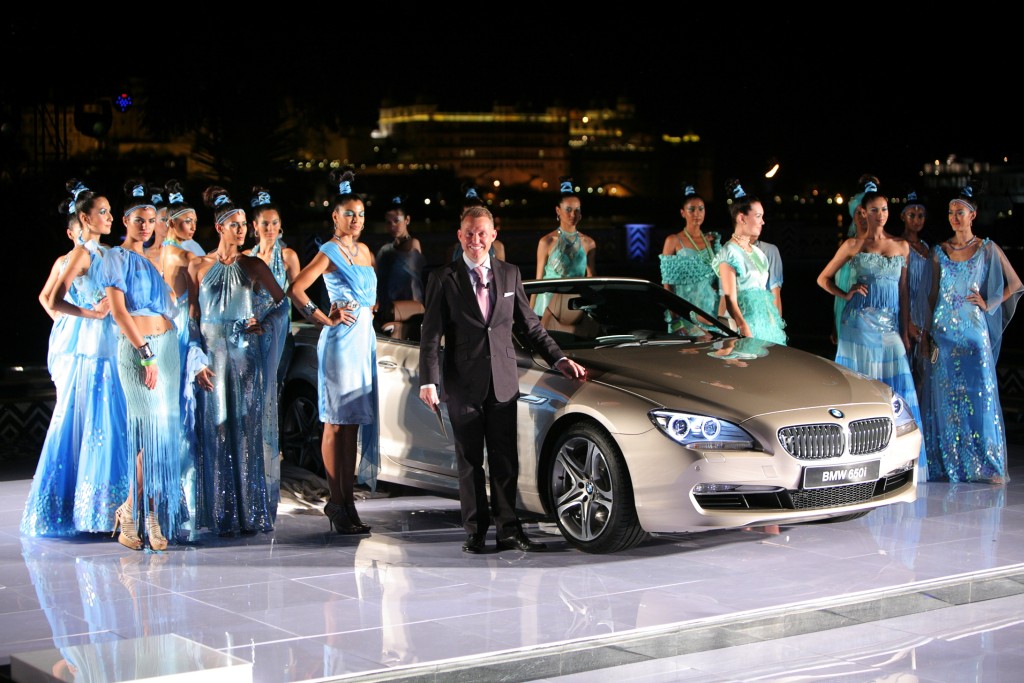 The 650i comes with monster of an engine being propelled by a twin turbo V8 motor producing road smashing 407hp with 600 Nm of torque. Like all the recent BMW's this one also comes with 8 speed automatic transmission but with sport sensitivity in it.
Press Release
Captivating and magnificent, the new BMW 6 Series Convertible debuts in India.
A perfect symbiosis of aesthetics, dynamism and flowing elegance in every detail, the new BMW 6 Series Convertible offers an unmatched open-top driving experience that doesn't get any better.
Udaipur.
The new BMW 6 Series Convertible was launched today at The Leela Palace Kempinski, Udaipur. The new BMW 6 Series Convertible is available as a petrol variant and can be ordered at BMW dealerships across India.
Dr. Andreas Schaaf, President, BMW India said, "The new BMW 6 Series Convertible with its breathtaking aesthetics is the perfect vehicle for an exclusive lifestyle. The elegant silhouette, torquey engine, perfect road holding and refined interiors with perfection to the smallest detail, create an ultra-luxurious open-top driving experience that could not possibly get any better."
The new BMW 6 Series Convertible will be available in India as a Completely Built-up Unit (CBU) and the all India ex-showroom prices are as follows –
The new BMW 650i Convertible : ` 95,00,000
Note: Ex-showroom price excludes RTO registration charges, tax, insurance, handling charges; Octroi and entry tax (as applicable). The above ex-showroom prices are exclusive of sales tax / VAT applicable on sale to the customer. Prices and options are subject to change without prior notice.
The new BMW 6 Series Convertible sets a benchmark for exclusive open-top driving. Sophisticated styling with aesthetic proportions, elegant lines, sporty 'shark nose' of the BMW kidney grille, closeness to the road and wide and low design language make the new BMW 6 Series Convertible appear uncompromisingly dynamic. Exclusive interior with clear driver orientation, sleek styling, masterfully crafted details and room for four adults set a new bar in this segment.
The new BMW 6 Series Convertible comes with an eight-speed sports automatic transmission with rapid and precise gear changes with gear shift paddles on the steering wheel. It also features Drive Dynamic Control, which allows drivers to vary the car's sporting characteristics and comfort by choosing the desired suspension settings (Normal, Sports and Sports+).
The new BMW 6 Series Convertible conceals unmatched power beneath the hood, combining instantaneous power development, majestic torque and outstanding smoothness. A 4.4 litre V8 engine with BMW TwinPower Turbo Technology and direct injection develops a maximum output of 300 kW/407 hp between 5,500 – 6,400 rpm as well as maximum torque of 600 Nm all the way from 1,750 to 4,500 rpm. The new BMW 6 Series Convertible accelerates to 100 km/h in just 5 seconds with a top speed of 250 km/hr.
The new BMW 6 Series Convertible embodies an extremely contemporary form of luxury, one not defined by the wasteful use of resources but instead spawned directly from superior technology. BMW EfficientDynamics has innovative technologies such as Intelligent Lightweight Design*, Electronic Power Steering*, TwinPower Turbo Technology* and Brake Energy Regeneration.*
The new BMW 6 Series Convertible will be available in Alpine White as non-metallic paintwork and in the following metallic colours: Orion Silver, Titanium Silver, Black Sapphire, Havanna, Space Grey, Deep Sea Blue and Vermillion Red.
Dakota leather is the standard upholstery and is available in the following colour combinations: Black, Ivory White and Cinnamon Brown. The following interior trims are available: Fine-wood trim poplar grain grey and Fine-wood trim American Oak.
BMW EfficientDynamics
Getting More for Less: BMW EfficientDynamics is the world's most comprehensive technology package for the reduction of fuel consumption and emissions. And the best part: BMW EfficientDynamics reduces fuel consumption and emissions while simultaneously increasing driving dynamics. The result is sensational driving pleasure combined with low fuel consumption – and it's standard in all models.
Brake Energy Regeneration: As soon as the driver takes his/her foot off the accelerator, the car's redundant kinetic energy is transformed into storable electrical energy. The battery is thus charges "for free". The result: Less engine power is needed to feed the battery which saves fuel.
Electronic Power Steering: The electromechanical steering only operates during the actual steering process. When driving straight ahead, or at a constant steering angle, the electric motor does not consume any energy.
BMW TwinPower Turbo Technology: This innovative turbocharging process very efficiently recycles exhaust gas flow through two turbochargers.
Intelligent Lightweight Design has been achieved primarily through the use of high-strength multi-phase steels, high-strength hot-moulded steels and aluminium and design construction of the soft-top roof and stowage compartment.