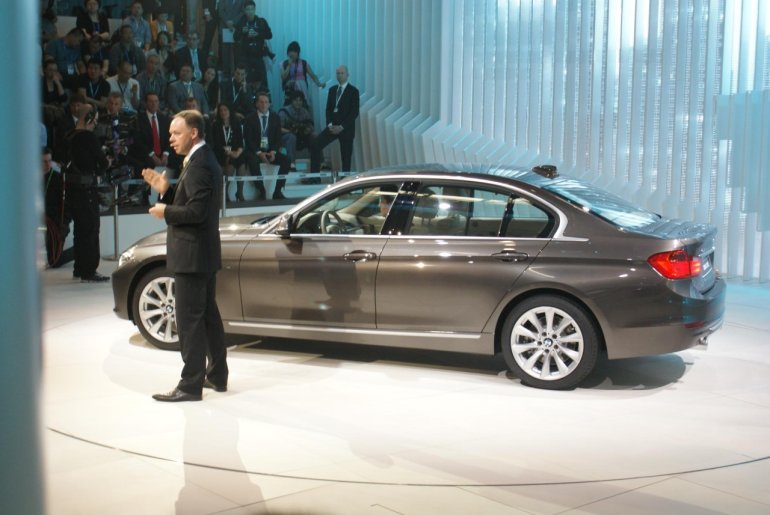 The long wheelbase version of the BMW 3 Series has been unveiled in Beijing in three flavors - 320Li (184bhp), 328Li (245bhp) and 335Li (306bhp).
Check out the BMW 3 Series LWB image gallery
The motors are exactly the same as the ones lurking beneath the bonnet of the normal wheelbase 320i, 328i and 335i variants. BMW says the 3er LWB is focused on the Chinese customer and is an understanding of their needs and desires.
The wheelbase (the distance between the center of the two wheels when the car is viewed on its side) has been stretched to 2,920mm (110mm longer than usual) leading to an overall length of 4,734mm. All three models are driven through an 8-speed transmission.
What's the point of the LWB when the regular model itself is (50mm) longer than its predecessor?
That's a valid question. Rear bench comfort has been improved on the normal wheelbase F30 compared to the outgoing model with 47 mm increase in rear track, 93mm growth in length and 50mm improvement in wheelbase. Additionally BMW has generated 18 mm of extra legroom near the doors, 15 mm of additional knee room and 8 mm of extra headroom.
What could be BMW's point of view on the 3 Series Long Wheelbase?
The Chinese customer can now choose a model with 110mm extra wheelbase and the reason is the Chinese market is so vast that there are segments within segments coexisting peacefully. Many customers may prefer being chauffeured and cannot afford a 5 Series.
Why will I buy a BMW 3 Series LWB?
If I don't like or know driving but believe in this German brand's distinction.
If my favorite chauffeur is over six feet tall.