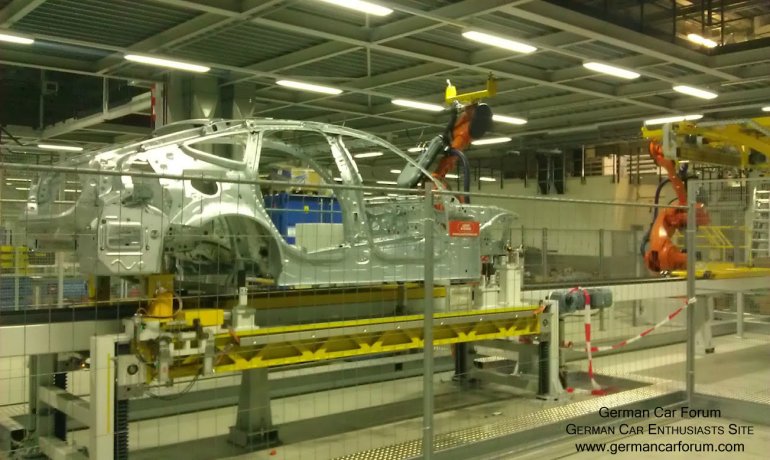 GermanCarForum has published what we believe is the first fully-revealing spy photo of the BMW 3 Series GT's chassis occupying the assembly line of an unidentified BMW plant.
Revealing the skeleton of the 3 Series Gran Turismo, one may not be able to see the flame surfacing techniques yet, but the sleek roofline and the car's proportions can be easily imagined over this shell.
The biggest difference, visually, compared to the 3 Series sedan is the sloping rear. If you notice the image closely, you can also see a tiny quarter glass behind the C-Pillar, wrapped around the tailgate. This hints that the 3er GT is an amalgamation of the Touring and Shooting Brake styles.
Our friends at BMW Blog have reported that the BMW 3 Series GT launches in the global markets in March 2013. The 5 Series GT's increased ride height and rear hatch will be inherited by the smaller sibling.
Engine choices are plenty, they can be chosen from the current pool of engines. All of them will be paired to the fuel-efficient eight-speed automatic gearbox as standard.
At this year's Paris Auto Show, BMW could show a concept version of the the 3er GT. BMW India has not ventured away from manufacturing sedans and crossovers and we think this should change soon.
The 3 Series GT could usher a new segment as there are customers with 35 lakh rupees, who are not convinced to spend on a sedan, and find the X3 a bit too big. The 5 Series GT was launched in India, as a CBU with limited volume estimations, has acted as a precursor to this vehicle.
The competition-free 3 Series GT, if locally assembled and marketed well, could be a sensible bet in the ever-transforming Indian luxury market.
[Source - GermanCarForum.com & BMWBlog.com]