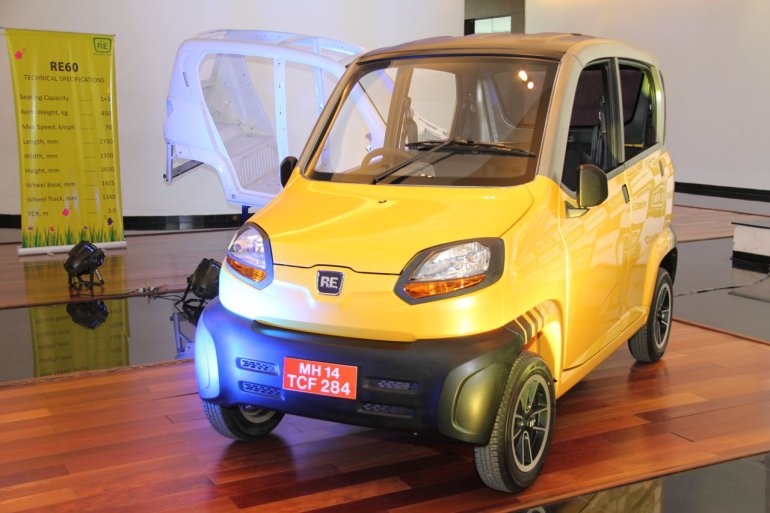 Bajaj is eying about 5,000 units every month of the RE60 which was unveiled last week in Pune in its production guise. Bajaj had showcased a near-production concept at the Delhi Auto Expo in January 2012, and has since then been working on finishing the project.
The RE60 opens up a new class of automobiles in India called the 'quadricycle'. The vehicle slots between a three wheeler and a proper car and will be marketed as a commercial urban runabout.
While Bajaj has got the in-principle go ahead from the Indian government, the production and sales of the quadricycle would commence only when the government committee submits the report favoring the formation of the new automotive segment.
Powered by a single cylinder petrol engine, the RE60 has a claimed mileage and a top speed of 35 kmpl and 70 kmph respectively. The quadricycle is also environmentally friendly since it emits only 60 gram of CO2 per kilo metre. It is powered by a single cylinder petrol engine that produces about 20hp.
Mr. R C Maheshwari, President of Bajaj Auto's commercial vehicle division, stated that,"The government has given us an in-principle approval to create this new class of four-wheelers or quadricycles. A committee is working on regulations and norms for such vehicles. We understand that the process for the final inclusion of this new class in the commercial vehicles segment will take a few months more."
With the RE60, Bajaj is looking to create a new segment of commercial vehicles which would eventually replace the three wheeled auto rickshaws. Bajaj has sold over 6 million of them globally in the past few decades.
[Source: Profit.ndtv.com]