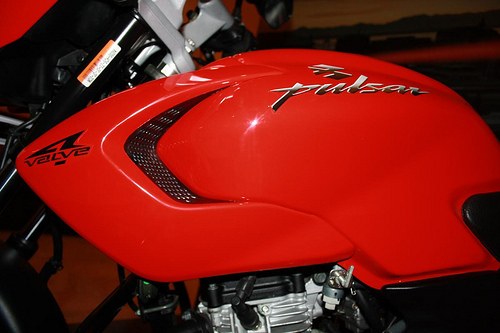 The Bajaj Pulsar 135LS is the first of many new Pulsars we're going to see
You would have been wondering where today's updates went. I apologize for not keeping you posted. Out of the blue, I decided yesterday afternoon to attend two important launches - the Bajaj Pulsar 135 LS which concluded today afternoon and the Honda 110cc motorcycles in Delhi which happens tomorrow (Thursday), and immediately backpacked and headed to the nearest airport in Chennai.
As I type this, the temperature here in Delhi is inching towards freeze zone, but the hot topics discussed during the launch of the new Pulsar this afternoon by Rajiv Bajaj and his team is keeping me warm.
I pitched questions regarding future of Bajaj that got Rajiv Bajaj talking. He did not shy away from questions and welcomed curiosity levels among journalists. I'll come to those details in a bit.
Bajaj Pulsar 135 LS price, specifications and mileage
The Pulsar 135cc Pulsar LS (light sport) gives out 13.5hp that propels it to a top speed of 115kph. The bike is expected to return a fuel economy figure of 65kmpl in city conditions and is targeted at customers in the age group of 18 to 30 years. The new Pulsar has got nothing to do with the XCD Sprint concept shown at the Delhi Auto Expo last year, though it bears a striking resemblance. Priced at 51,000 rupees ex-showroom Delhi, the 135cc Pulsar LS holds the title of using the world's first 4-valve twin-spark petrol engine and the highest top speed and best acceleration in its segment.
Rajiv Bajaj said the Pulsar 220cc is the equivalent of the 7 Series, while the 135cc LS corresponds to the 3 Series in the BMW range. Hence a lower displacement motorcycle would not dilute the brand. He says the Pulsar brand would get diluted only if the bike doesn't look like one, ride like one or priced way too low. The appearance, performance and practicality of the new product is in the level of the existing Pulsars, he added.
XCD and Kristal get axed
Bajaj will axe the 135cc XCD motorcycle from its portfolio. The XCD will make way for the new Pulsar, which is for the performance oriented customer. The Discover 135 however will stay to play the role of a commuter offering.
Bajaj will also take down the Kristal scooter, which never saw expected volumes in India by the end of this fiscal. The scooter was being exported, but due to falling demand overseas, Bajaj sees no point in selling it anymore. Bajaj' primary focus is on motorcycles at present. They don't have any scooters on the drawing board so one can assume they won't be coming up with something in the next two years.
Bajaj Pulsar 400cc, cruisers, Motoczysz
Rajiv Bajaj told me that his company is working on bigger Pulsars which will displace up to 400cc. The high powered bikes are expected to roll out by 2011. These performance bikes are also expected to come with multi-valve DTS-i engines.
Bajaj will also bring a cruiser under the Pulsar brand in the near future. According to Mr.Bajaj, even cruiser bikes come under the performance category, which is why the Pulsar brand will be used on such type of models.
Bajaj says its efforts are going into making the internal combustion engine the standard source of power. Bajaj has some R&D projects on hybrid or electric vehicles, but those are not on his agenda in the coming years.
The partnership with Motoczysz will see futuristic three wheelers in the coming months. Other than being a three wheeler, every other aspect of the vehicle will be different.
Boxer, Bajaj, KTM and RE brands
While the Boxer brand will be used on low-cost motorcycles meant for exports and Bajaj brand will take care of motorcycles in India, KTM will be Bajaj's full-fledged performance offering. RE (Rear Engined, a term used on Bajaj's 3-wheeled autorickshaw) will play the role of the company's commercial vehicle wing, which will soon swing into operation with more LCVs.
Bajaj Pulsar 135LS Image Slideshow
If you can't view the slideshow above, visit the Bajaj Pulsar 135LS Launch function Image Gallery directly
Image copyrights belong to Associate editor Shakti Budhiraja.

Rajiv Bajaj also added that he will show nothing new at the Auto Expo next year
Not enough information? Check out our earlier posts below
- Bajaj says it will build cars other than ULC
- Close range EXCLUSIVE shots of the Kawasaki Ninja 250
- Our in-house review of the Bajaj Avenger
- Bajaj's 350cc Pulsar faces delay
Press Release
BAJAJ AUTO LAUNCHES THE PULSAR 135LS TO LEAVES TRAFFIC JAMS BEHIND! First of its kind Light Sports bike launched in India.
New Delhi, December 9, 2009: Nothing takes away more from the pleasure of biking, than the biggest bane of urban life – traffic! Unending jams, errant drivers and potholed roads turn every ride into a battle, leaving the rider hassled and exhausted. Wouldn't it be great to have a light, yet zippy set of wheels, something that would let you carve up traffic like a hot knife through butter? The all new Pulsar 135 LS (Light Sport), the first of its kind in India, is designed to do just that. This bike is designed to add a whole new dimension to the motorcycle market by creating a new Light Sports segment.
The Pulsar 135LS is powered with a state of the art 4-valve DTS-i engine delivering 13.5 Ps power. With its chiseled lines and aggressive stance, a sporty split-seat, aluminum clip-on handlebars and a host of other features this power packed 135cc Pulsar delivers performance comparable to other 150-cc. The light kerb weight of only 122 kg gives it a great Power-to-weight ratio of 110.6 Ps/tonne to make it optimum balance of agility and comfort to maneuver hustle-and-bustle of urban traffic.
Equipped with a light-weight yet rigid frame, aided by gas-charged Nitrox shock absorbers at the rear, the Pulsar 135LS is well up to the challenges thrown by the urban jungle. It delivers class-leading top-end power, due to its 2-inlet and 2-outlet valves and ample pulling power in the low and mid-range. This is possible due to the light-weight character of the four smaller valves (as opposed to two heavier valves), which allow the engine to effortlessly rev to an eye-popping 10,500 rpm (electronically limited). And since safety is paramount on any Pulsar, DC lighting and a 240mm disc brake up front comes as standard.
According to Mr. S Sridhar, CEO 2-Wheeler, Bajaj Auto, "The Pulsar brand has been strongly associated with creating the sports segment in this country and our vision is to make India a country of bikers from a country of commuters. The new Pulsar 135LS leads the charge in democratizing the thrill of biking and accelerating the growth of sports segment in this country, in line with the overall Pulsar strategy of broad basing performance."
The bike will be manufactured from the Chakan Plant and will have a capacity of 35000 bikes per month. Pulsar 135LS is attractively priced at 51,000 ex showroom (Delhi).
About superior 4 -valve DTS-i engine in Pulsar 135LS
A 4-Valve engine is designed for better performance than regular a 2-Valve engine. Combined with the revolutionary DTS-i (Digital Twin Spark-ignition) technology which maximizes combustion to deliver enhanced power and superior mileage with low emissions, the Pulsar 135 LS has one of the most efficient production engines ever.
1. More power: The 4 valve provides for a greater intake and exhaust area resulting in more power, almost equivalent a 2 valve 150cc engine.
2. Sustained top end power: The light-weight character of the four smaller valves (as opposed to two heavier valves), which allow the engine to effortlessly rev to an eye-popping 10,500 rpm (electronically limited)!
3. Sporty ride: Given the wider rpm band, the engine can be revved hard and high in each gear resulting in a genuine sporty ride.
4. More Mileage: Established superiority of DTS-i blended with 4 valve not only enhances the performance but also returns a very good fuel economy (68.1 km/l certified by ARAI)
5. More green: Comfortably meets BSIII regulations.