Bajaj Auto has extended its festive season offer to provide the new buyers with special benefits. The offer, which was originally valid till October 25, has now been extended until November 20, 2018.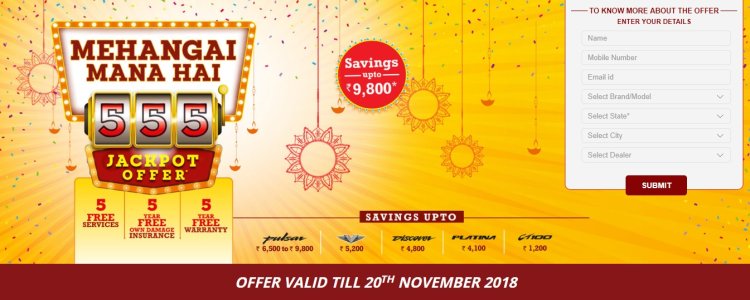 Also read: Bajaj Dominar 400 receives another price hike; gets expensive by INR 1,000
Under the '5-5-5' festive season offer, Bajaj Auto gives five free services, five years of free warranty and five years of insurance with every purchase of Pulsar, Discover, Platina, and V range of motorcycles. The benefits of the offer result in savings of up to INR 9,800 on the Pulsar range, INR 5,200 on the V series, INR 4,800 on the Discover, INR 4,100 on the Platina and INR 1,200 on the CT100.
The extension of the 5-5-5 offer is aimed to boost the sales during the peak of the festive season i.e. Diwali, which is on 7 November, 2018.
In September 2018, three of Bajaj's motorcycles were in the top-10 sold two-wheeler in the country. The CT100 stood sixth with total sales of 87,387 units, against 78,493 units in the corresponding month last year. The Pulsar brand took the seventh spot, with 89,374 units sold in the month, while the Platina was 10th in the list.
Bajaj Auto aims to expand its sales in the sports segment from 80,000 units per month in the first half of the current financial year to 90,000 units per month in Q4 (January-March) of FY2018-19. To achieve this target, the company will soon update the Pulsar Classic with new design and features. The Platina will also receive updates to further boost the sales volumes in the M1 (100 cc) segment.
In August 2018, the Bajaj Platina 125 was spied testing on the Indian roads. However, Bajaj Auto's Managing Director, Rajiv Bajaj had confirmed that there are no plans to stretch the Platina range into the 125cc segment. The motorcycle will be exported to the Mexican market.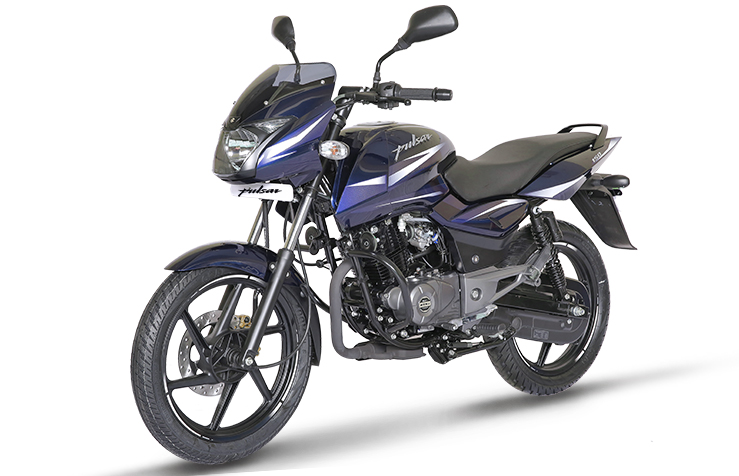 Rajiv Bajaj has said that the company is "now going to market new Dominars." The updated Dominar 400 will reportedly be launched in India this month (November 2018). In its refreshed form, the motorcycle will feature an upside-down telescopic front suspension and a new design for the exhaust canister. With the 90,000 unit per month sales target set for the Q4 of FY2018-19, Bajaj should also introduce the new Pulsar Classic along with the updated Dominar 400. We are yet to hear an official announcement about the launch of the new products.